Cakes complete our occasions. It is enchanting how a simple cake mixed with love and care makes a while more memorable. I especially love the chocolate flavour, and if it's mud chocolate cake, then 'am going to smile the whole day. These days the birthday celebrations are sketchy without cream on face. We are enjoying cakes in every possible way. When I was a kid, once my mama baked a Vanilla cake for me, that day, I came to know that this sweet magic can get baked at home. At that time, I never thought I could bake. But these lockdown days are testing my baking skills. I have seen a lot of people celebrating happenings baking at home during this quarantine on social media. And it ticked me!
So, it was my aunt's birthday, and we couldn't treat buying a cake. I thought, let's get baking! I went through a lot of recipes. I decided to go for a Black Forest cake, but limited ingredients blocked the bake. Here then I picked some constituents for the blend, bake and put a smile. 
How to make a cake at home?
A Marble Cake seemed perfect. It is an exciting fusion cake recipe prepared by mixing two different cake batters. One is the plain batter, and the other flavour is the preferred choice. These two flavours, when baked, certainly swirled or overlapping. The flavours mixed to give it a marble effect. You can bake it in the pattern of your choice. It's an Eggless recipe. Super soft, delicious, and moist. 
When relished, the entire family couldn't rest at one slice. The feedback was: "This cake recalled us of childhood Britannia cake"— cakes by Britannia were super soft, moist, and mouthful. If your mouth is watering, then let's get into ingredient and baking procedure.
Ingredients to make this recipe:
Here are the elements that you'll require for baking this cake.
All-Purpose Flour (1-Cup)
Sugar (1/2 cup)
Curd (1/2 cup)
Oil (1/4 cup)
Baking Powder ( 1 tsp)
Baking Soda (1/4 tsp)
Raspberry Red color / Cocoa Powder (1 tsp)
Milk (1/4 cup)
Vanilla essence
Cake tin / Microwave-safe bowl
Parchment paper
Mixing bowls
Sieve
Follow the Recipe:
Preheat the oven at 180*C. Take routine size Cake tin (7-8 inches) grease it gently with oil, place a parchment paper for effortless handling.
Mixing of the Ingredients & Baking:
Now, take a bowl to make the batter. Take 1/4th cup refined oil, 1/2 cup Curd, 1/2 cup Powdered sugar, half tsp vanilla essence. Mix it well with a fork. Set aside. If you do not want to add curd, then replace it with milk.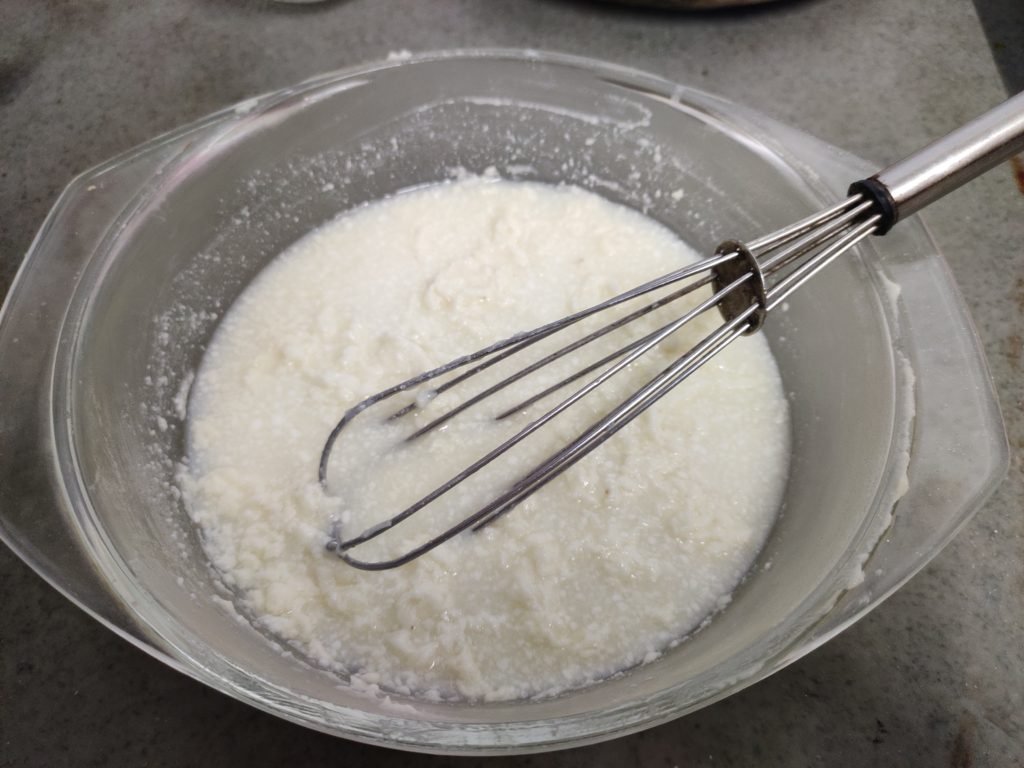 Use the sieve to add all-purpose flour, milk powder, baking powder, and baking soda in the bowl. Again you have to mix it well. The next step is to add milk in the container.
Note: Make sure the milk is neither too hot or cold. Room temperature milk will prevent lumps. Subsequent mixing the batter will get a smooth texture. If you feel the consistency of the mixture is thick, then you can add more milk. I got the perfect consistency with 1/4 cup of milk. The texture of the batter should e smooth and lumps free.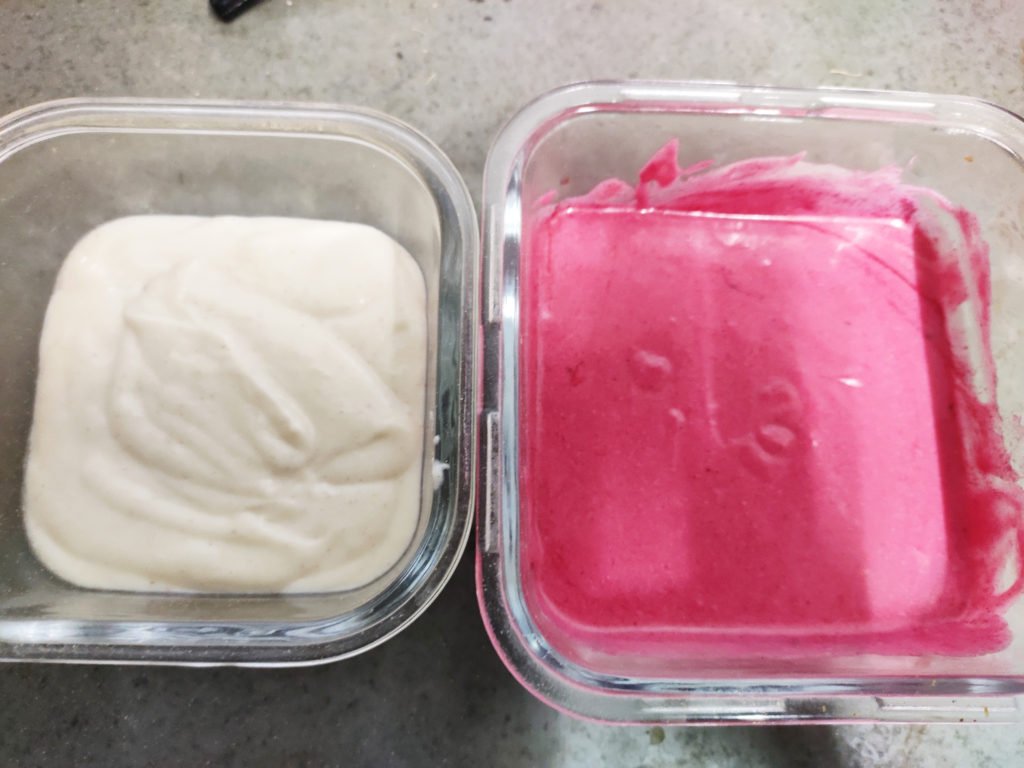 It's time to put half of the batter in another bowl. Add Raspberry Red colour and Vanilla essence to give it a different colour and flavour. If you like chocolate flavour, then you can add Cocoa Powder. I didn't have Cocoa Powder, so I substituted it with raspberry red colour. Also, in short of vanilla essence, add cardamom powder (Elaichi powder). Compute some milk if needed. Mix it well, and the coloured batter is ready.
To start with the baking process – First, take the cake tin and pour the plain batter in it carefully, now pour the coloured mixture over it, and again the plain batter. You have to pour layer by layer once you pour the whole mix in the cake tin, a layered combination of a mix than can be designed. With the help of a toothpick, I created a floral pattern. Move the toothpick as you cut a pizza. Very gently flip it out and clean it with every stroke. The alternative batter layers make the cake look so beautiful. Create a design you like or mess it up- you are going to love the taste. You can also pour the mix in an alternate course, add different flavours, maybe chocolate first and vanilla following. However, you like it.
Let's Bake! Place the cake tin or bowl in the oven. Bake it for 35-45 minutes. The time may vary depending upon the kind of oven. You can check the cake for done-ness with a knife or toothpick, after 30 minutes. (I did it once, and let the cake sit in the oven for ten more minutes). Now when the cake is ready, take it out from the oven and let the cake rest for 10 minutes. Run a knife around the cake and very blandly flip it out, then pull out with the help of parchment paper. It is ready to get sliced!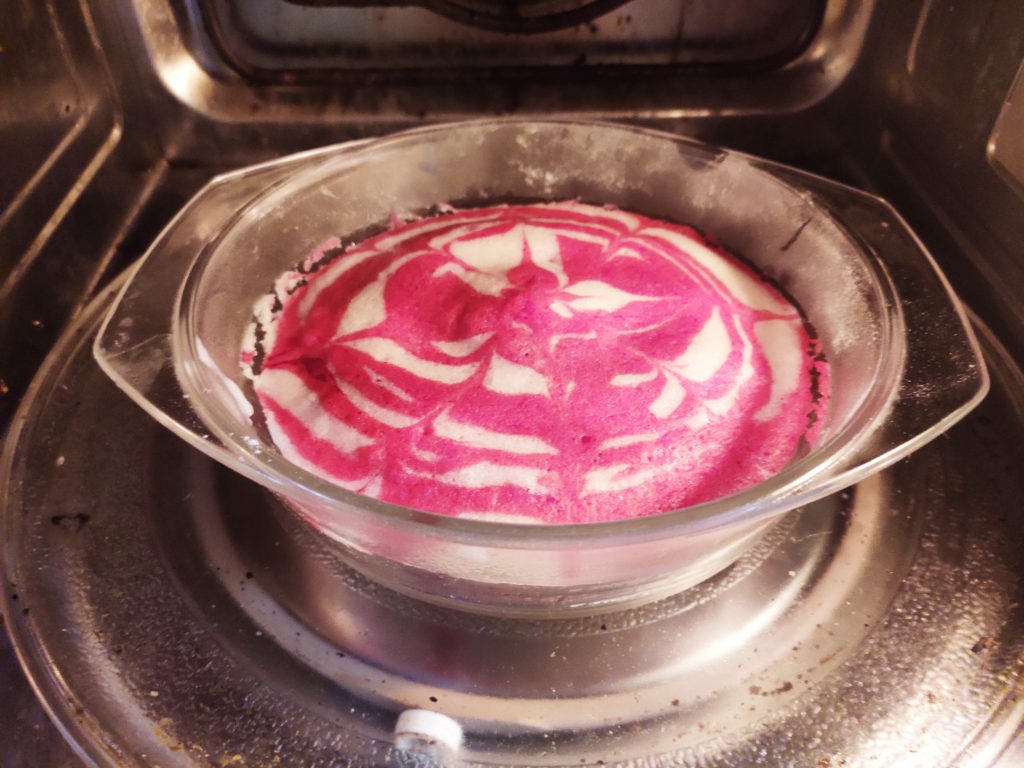 *Slicing a hot cake may make it mushy.
You can enjoy this on celebrations or maybe as an evening snack. So, if you have any occasion day during this lockdown, do not worry, now you know how to bake a Marble Cake. And if you just want to bake it, then savour a delicious slice of this fusion cake with tea or coffee. Always remember, cakes are healthy too. Why you just eat a small slice? 😉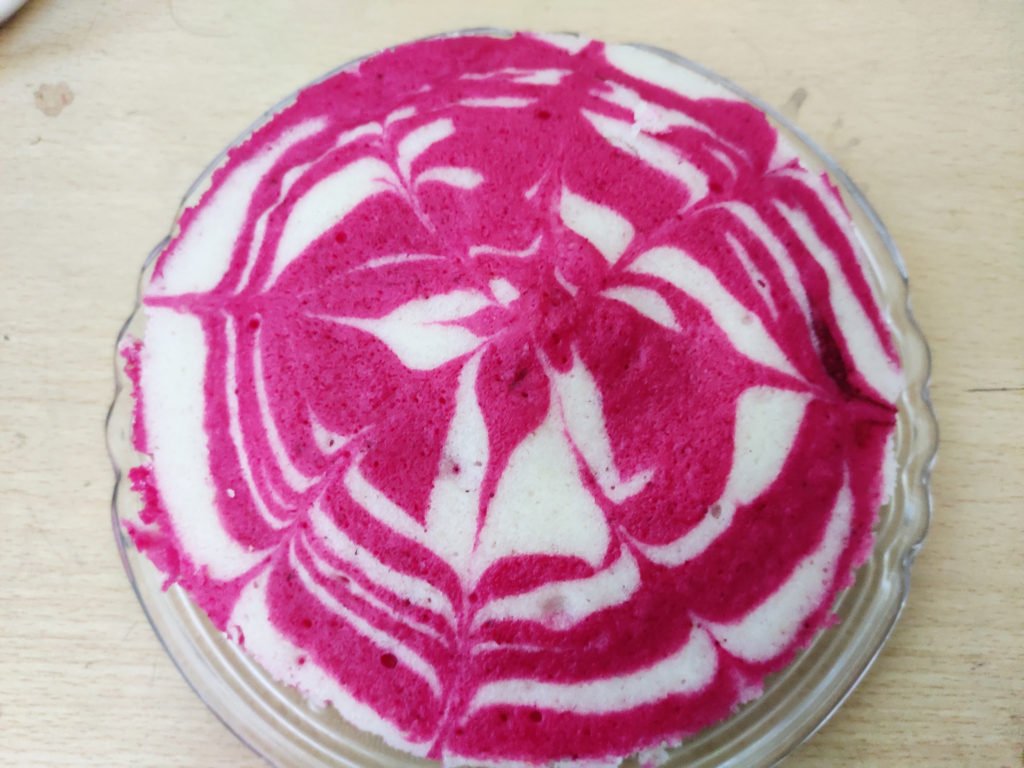 FAQ:
Can I make this cake vegan?
Yes, you surely can. Replace the milk with soy milk or almond milk (non-dairy milk). Try apple cider vinegar or white vinegar and mix with soy milk or almond milk. Sit idle for 10 to 15 minutes and then follow the recipe directions.
What can I use if I don't have parchment paper?
No issue. Dust some white flour inside the container, it will also give you effortless handling.
Can I store the cake?
Yes, cover the cake tightly to store it. At room temperature, you can store it up to two days and in the refrigerator for up to five days.
Last updated on May 2, 2020
You might also like these!