Te Amo speaks of vegetarian food with innovation! The moment you step in this restaurant, you will be amazed by the simple and classy interiors.
Furniture in shades of blue and white with spacious seating and a rooftop which gives a splendid view of the city that will take your breath away! Te Amo has a large capacity of 300 people and is perfect for a laid back Sunday lunch, private party on the rooftop and more importantly a pure vegetarian restaurant that has modernized its food!
As we scan through the menu, we discover that the place has A la Carte as well as BBQ menu at prices that are easy on the pocket and the variety that will leave you spoilt for choices! The list is a goldmine of dishes which are never heard before and BBQ which makes one crave for the unlimited options of food right from basic ones to added chaat counters! Powered with a staff that is prompt and knowledgeable about the food acts as a cherry on the top, as they suggested us some highlights from their menu.
Te Amo Review
Mocktails
Kiwi Punch

Singapore Sling

Pomegranate Spitzer
Kiwi Punch: Kiwi Punch defines what a refreshing drink should be like! Styled so skillfully by carving sweet lime, this drink will genuinely give you all the Hawaiian feels! Balanced on the sweetness with real fruit pulp that spoke of freshness in every sip!
Singapore Sling: An innovative combination of cream and fruit this drink has an unusual styling of fruit peel decorated outside of the glass which genuinely looked like the drink is draped in fruit! The beautiful combination of cream and fruit in a mocktail makes it rich as well as genuinely delightful!
Pomegranate Spitzer: A simple mocktail with pomegranate juice and crushed ice makes Pomegranate Spitzler perfect for a summer afternoon! Loaded with the goodness of pomegranate, this mocktail blends perfectly while enjoying all the courses!
Starters
Golden Fried Babycorn: Crispy fried baby corn fritters served with Schezwan sauce makes the perfect starter for the spice lover in me! Tender baby corn which has its natural sweetness coated with crispiness and dipped in Schezwan the sauce makes this starter so right that we bet you cannot stop at one!
Uttapam Platter: Giving our good old uttapam a twist by serving a platter of uttapam alongside sambar and coconut chutney. The platter has six different uttapams – topped with various ingredients – chilly, tomato, potato, sesame, onion and plain uttapam. It is a great dish which combines different possibilities that an uttapam can be enjoyed with, and the one with sesame was genuinely exceptional!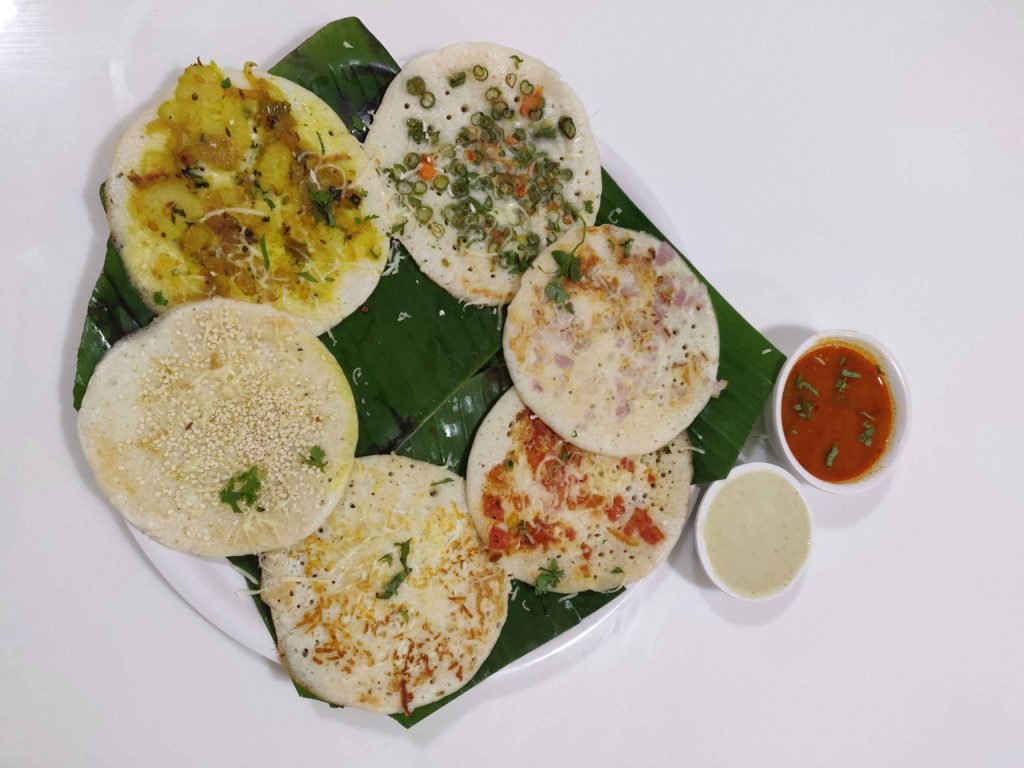 Paneer Saki: Made in a spinach puree, this paneer starter tasted out of the world because of the prominent garlic flavor! Served on leaves of cabbage and garnished with chopped carrot and red cabbage gives oriental feels to the whole dish! One bite of it and we bet you will instantly love this paneer brilliance!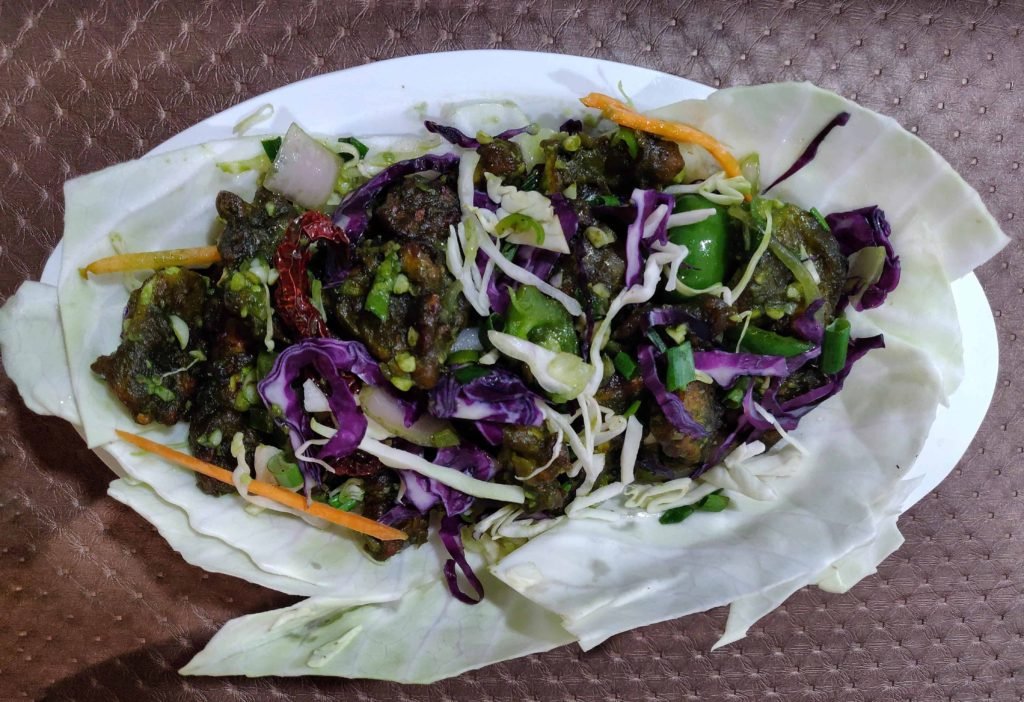 Aloo Angara Kebab: Potatoes stuffed with minced PPaneer and with spices that will indeed win your heart! The specialty of this dish is that well-crafted and made to perfection with smoky flavor on the outer layer with flavorsome stuffed that gives you a variety of flavors in one bite!
Paneer Tiranga: Paneer Tiranga is topped with loads of cheese and served alongside capsicum and tomato with brilliantly marinated Paneer cubes! It is one of the simplest yet flavorsome starters with excellent presentation and satisfying portion size!
Veg Hot Pan: Sizzled with flavors, Veg Hot Pan has some spicy and tang hints with garlic and Paneer been the prominent elements of the dish! Served on a hot pan, this dish has an overall spicy taste to it will mix veggies been a part of this dish to make it wholesome! It's a must try dish for Chinese food lovers as it is best suited for their tastebuds!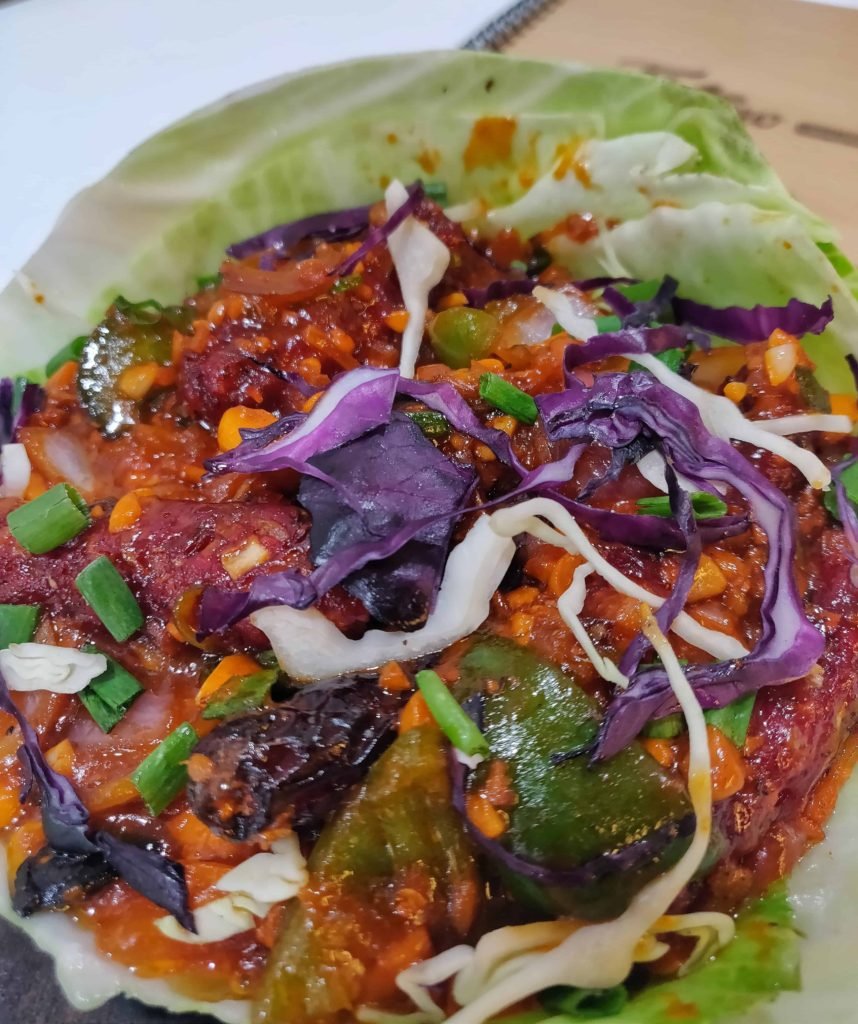 Main Course
Paneer Bahara: The presentation of this dish makes it Instagram worthy as it served with two gravies and pieces of Paneer Arranged between them! The two gravies – green one which has a spicy taste to it while the red one which had a prominent taste of onion & tomato – both truly amazing and highly recommended when you visit Te Amo!
Paneer Dilruba: Panner gravy which is served with cutlets and made in sinful creamy gravy will surely leave you licking your fingers! We enjoyed this beautiful dish with some cheese garlic naan couldn't stop drooling from the first bite! The gravy is full of spices and flavors that remind us why Indian food is so worth the applause as you reach out for another serving of Paneer Dilruba.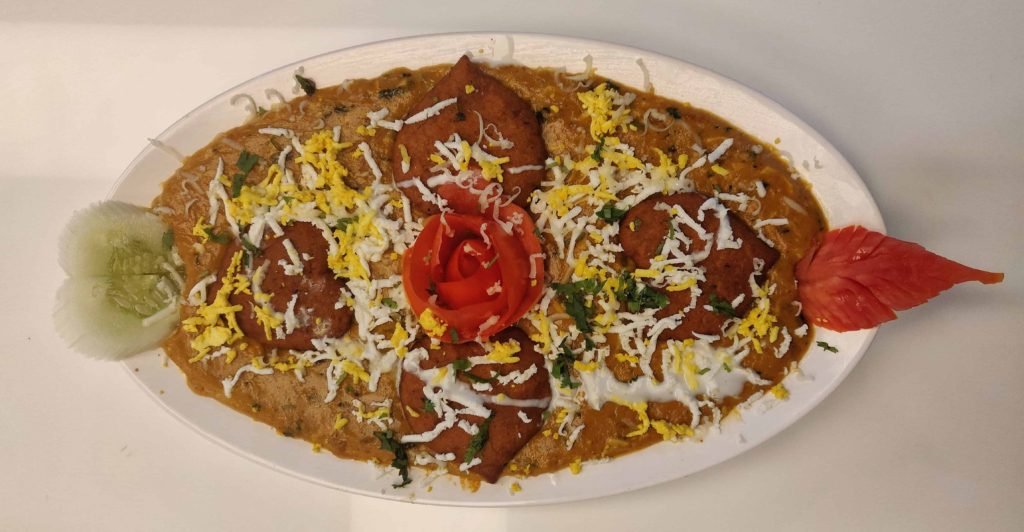 Desserts
Himalayan Fruit Salad: As unique as it sounds, this dessert is something which we have never heard about! When it was presented on the table, we were astonished! Pineapple carved into a bowl with fresh condensed milk and fruits like apple, pineapple, watermelon cut up to create a heavenly combination!
Te Amo Special Sundae: This dessert will indeed bring back the wonderful childhood days when treating yourself to a Sundae was the grandest dessert ever! This was loaded with roasted nuts, sweet wafers and four scoops of ice-creams!
Indulge yourself in the rich taste of Mango, Strawberry, and Vanilla as you end your meal in this substantial and more significant than life dessert!
As one walks out of Te Amo, they are only reminded of the rollercoaster of flavors which their chefs have mastered and put on the table for every customer to experience! Right from the refreshing flavors in mocktails to the level of innovation in starters and the heavy on stomach mains and desserts which are so sinful – each course set a standard of food which is unmatched!
Te Amo, which means 'I love you' in Spanish, will also be your final thoughts on their food as it is something that every vegetarian and non-vegetarian will look forward to!
Address: Sr. No. 48/2, Plot No. 8, Above Santosh General Stores, Chandan Nagar, Pune, Maharashtra 411014
Phone: 074149 73444
Last updated on September 17, 2019
You might also like these!