The closer we eat to nature, the better and healthier we will be.
If you fancy the Greens; whether it is the natural surroundings decked up with plants or farm to table fresh, local, and organic food, the Green House Bistro by Jehan Numa Retreat in Bhopal shall be your next food habitat. 
Green House Bistro Review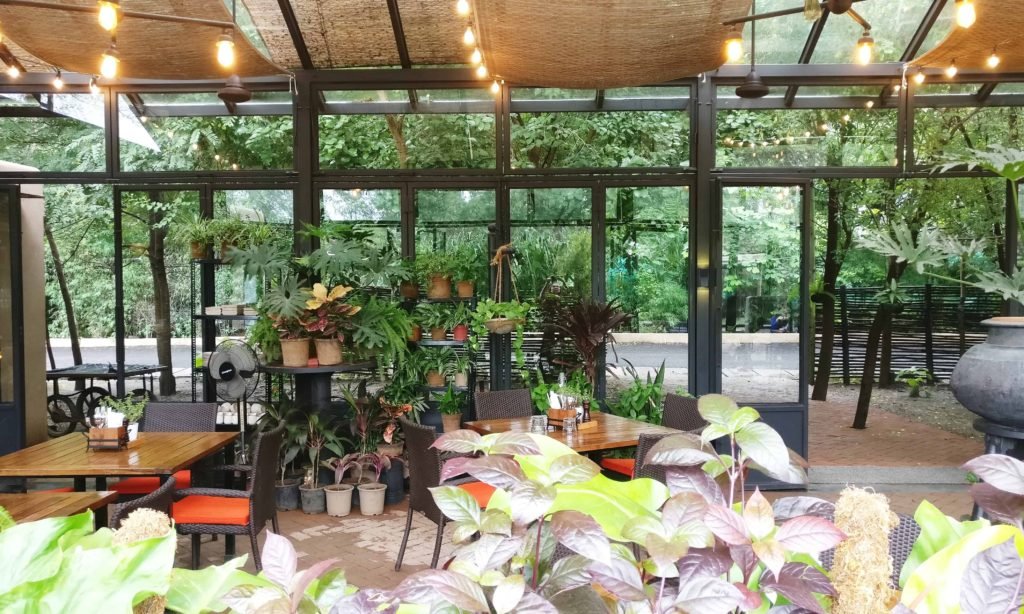 Opened just recently, the café gives a very homey and countryside vibe through its jungle-like surroundings and slow food philosophy. Located at one of the most premium locations in Bhopal, across a lake, next to a National Park, it is one of the most idyllic nature cafes I have come across so far.
The Structure – A Natural Settlement
As the name suggests, the café is constructed exactly like a Green House; a metallic structure made with transparent walls and roof where plants are grown. The Green here signifies not only the plants but also their natural herbs and vegetables sourced from their own vegetable garden right across the café.
The entire frame is in shades of black while the flooring is done with traditional red bricks as used in rural housing. Space is occupied with all kinds of plants, in various sizes and colors that breathe life into the café. You may also spot some beautiful plant installations that elevate the natural sense of the place.
The structure is designed as such to throw in lots of natural light and fresh air for the plants to grow and for you to inhale natural goodness. And when it turns dark, the atmosphere is lit with fairy bulbs hanging from the roof that add a gentle warmth to the place. As you take your happy place in the bistro, you will get a little peek of their in-house farm and resort spread across acres. The ambiance is so quiet and serene that you can even meditate until your food arrives.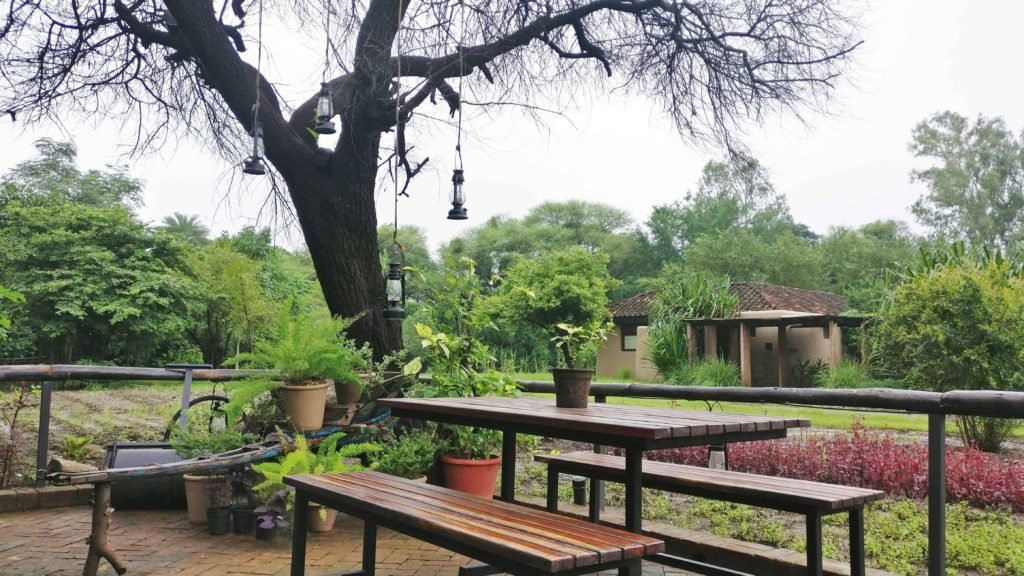 Though there is ample seating inside, the café slightly expands outdoors to bring you much closer to nature. It's almost like eating at a farm. Therefore, if you wish to enjoy maximum greenery with an open sky, please be seated outdoors.
The Menu – Organic, Local and Fresh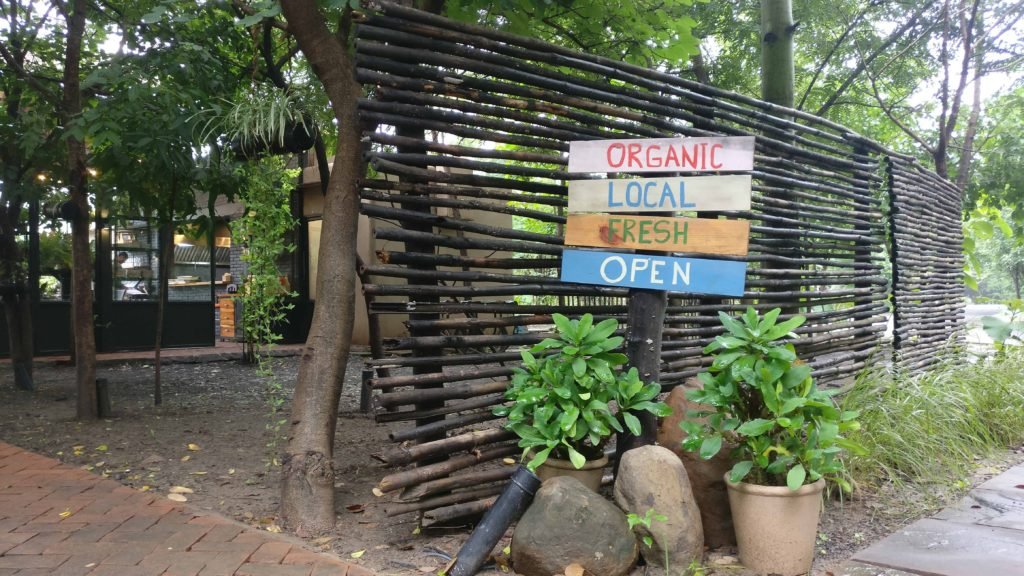 The Green House Bistro totally promotes naturally grown food and also wants to encourage the Slow Food Philosophy.
What exactly is Slow Food? In layman language, Slow Food is just the opposite of Fast Food; something that takes time to prepare, is eaten fresh and wholly, is locally sourced and seasonal. With the fast-food revolution across the globe, our traditional food, recipes, and tastes are being forgotten. When one eats slow food, they are introduced to the real taste of the food and its culinary traditions because it is so organic, fresh, and local. The idea is to have feelings for our food and value our health above everything else.
The chefs at Green House Bistro support the slow food philosophy and value the journey of food – how the food is cultivated, produced and consumed, which is visible in all their in-house preparations and the home-grown fresh micro herbs and leafy greens. Their recipes have been cataloged to rediscover the traditional food with a modern-day twist, and hints vegan gluten-free, sugar-free and non-dairy meals and drinks that can be customized as per your choice.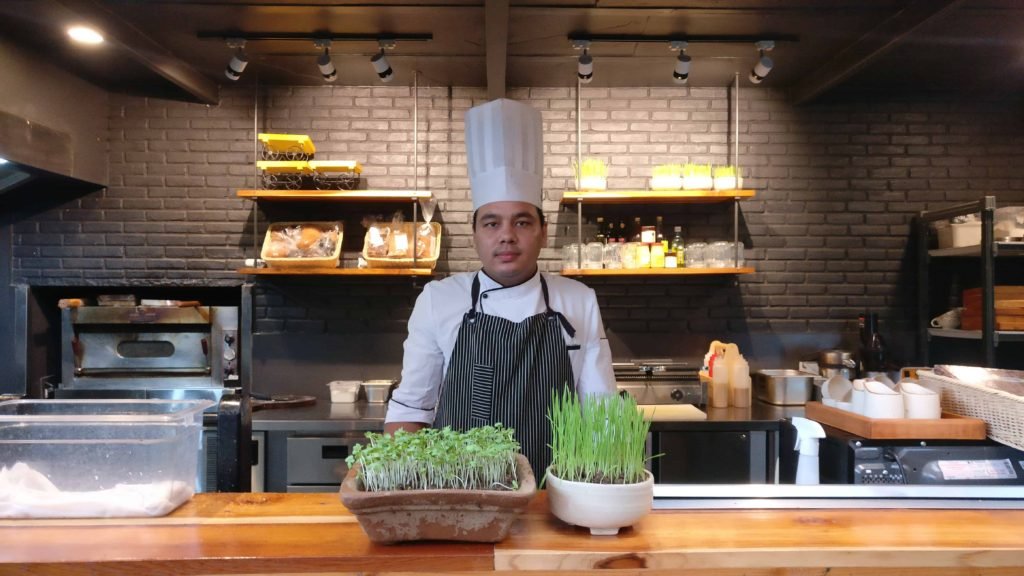 For, eg. You will find Quinoa incorporated in their salads which is a gluten-free pseudo-cereal and a high fiber ancient grain that originated in the South American mountains almost 5,000 years ago.
"Green House Bistro is all about farm to fork concept, and we are happy to be the pioneers of Green Eating in the city. We emphasize on organic food and serve what is grown beside the table. Our staff arrives early in the morning and handpicks fresh herbs and leafy greens from the garden every day. The bistro is relatively new, and we are hopeful that the people of Bhopal will progressively accept the idea of organic and slow food."

– Debayan Chakrovorty, Head Chef at Jehan Numa Retreat
Their menu is also designed to encourage eco-gastronomy and strongly advocates the connection between the plate and the planet; the fact that how our food affects our health and the environment.
What to Eat at Green House Bistro?
They have a specially curated menu for Gourmet Breakfast and All Day Dining. Their in-house specialties include a unique Black Burger for which they use black buttered buns prepared freshly in their own bakehouse.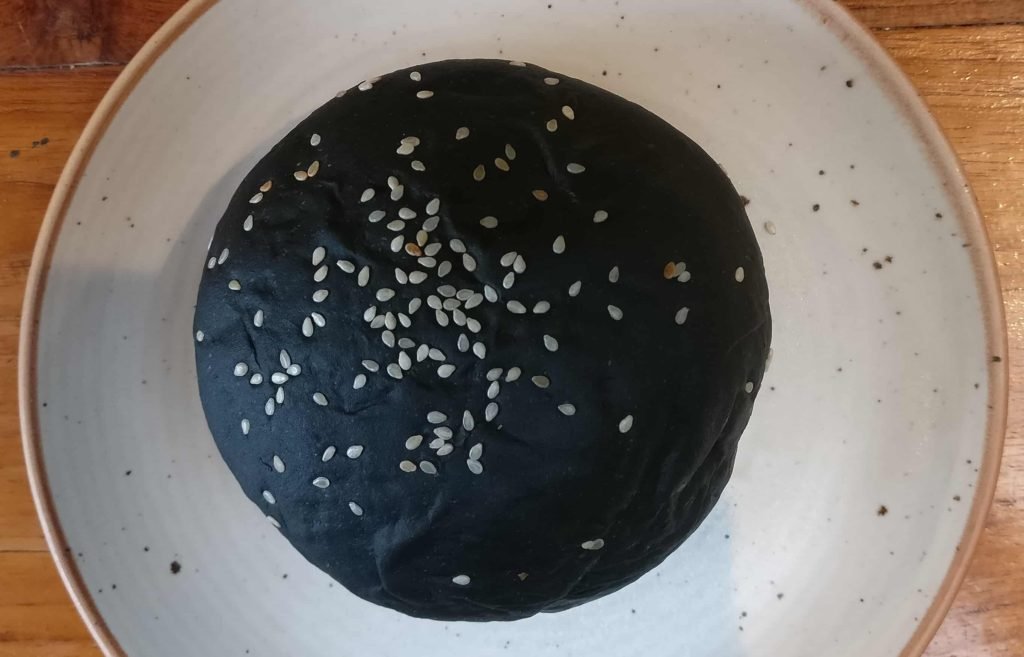 They serve healthier versions of your all-time Continental favorites such as Oven Baked Pizza (Try Wild Mushroom Pizza), Burger (Try Greens and Oats and Black Bean and Mushroom Burger), and Sandwiches (Try Vegetarian Cubanos and Toasted Mexican Sandwich). They have amazingly fresh salads with lots of mixed greens and homegrown herbs (Try Homemade Sprouts, Roasted Pear and Gorgonzola Salad). If you are on a cheat day, do try their Truffle Oil and Parmesan Fries.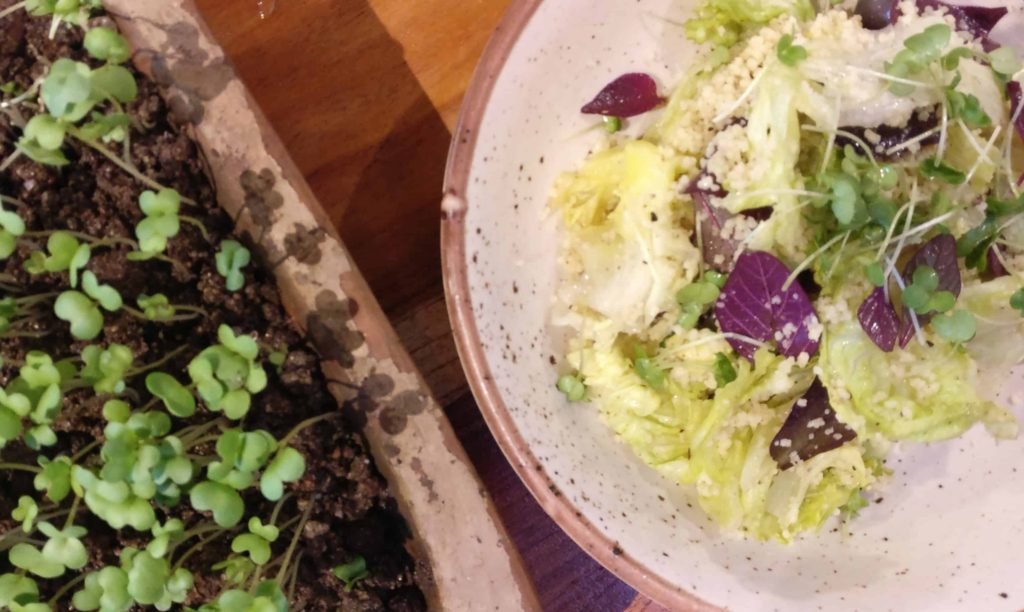 If you like Indian food, then they have multigrain versions of dosa (Try Pessarattu Moong Dal Dosa) and Kathi Rolls (Try Paneer Kathi Roll). They also have an interesting range of soups served as Soup of the Day – Potato Leek, Pear & Saffron Velouté, Corn Chowder Soup, Veg Clear Soup, Tomato Basil are a few to name.
They serve a stimulating variety of popular Global Desserts such as Baked Philadelphia Cheese Cake, Pavlova with Fruit Compote, Baked Alaska and the most special being Signature C8 which is their signature style layered cake with elements of chocolate and fudge sauce.
What to Drink at Green House Bistro?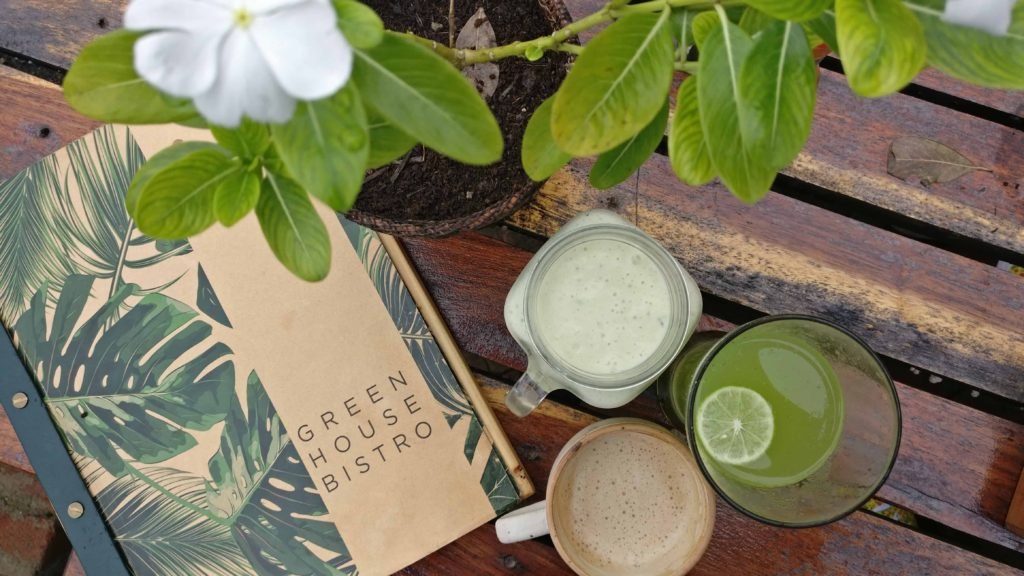 You will be spoiled for choices seeing their beverage menu. They have a healthy assortment cold-pressed juices (Try Fountain of Youth and Glowing Green) and Smoothies (Try The Healer) and vegan and non-dairy milkshakes (Try Almond Avocado – Keto Shake) and hot coffee.
If you enjoy tea, they have Ayurveda inspired Herbal Tea Collection such as Chamomile, Lemon Grass, and Moroccan Mint, brewed fresh and served infused in a pot. You can also try regular coolers such as Retreat Lemonade made from freshly hand-picked lemongrass from their farm or have 100% pure Coconut Water.
The Staff – Always At Your Service
The most comforting fragment of the Green House Bistro is their professional staff and the hospitality team who are dedicated to offer you peaceful dining experience. The staff is not only polite but also very knowledgeable about their menu and the kind of food that is served. They keep taking instant feedback as your food is served so that you eat to your satisfaction and don't complain later.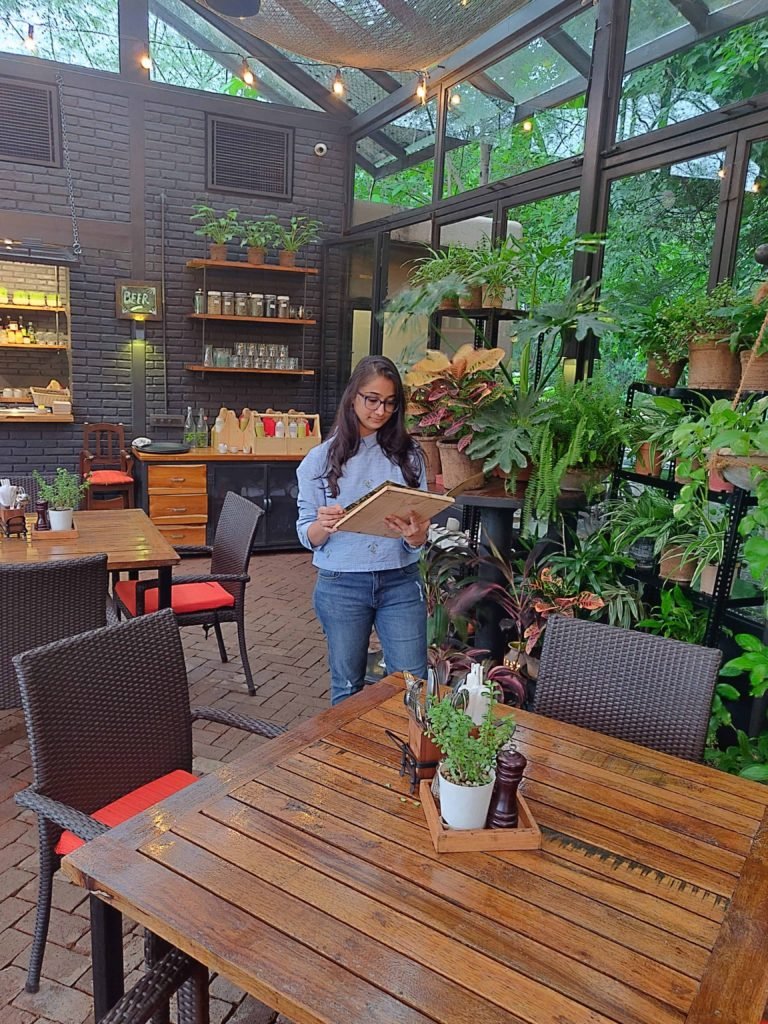 While I was doing my research interviews and content gathering at the café, Mr. Chandrakant and Mr. Afsar made sure that I get all the information I need for my blog. They helped me arrange things I required for the photographs and the aesthetics. I am grateful for their cooperation.
How About a Green Date?
Well, in the organic world, nothing says date more than a nature-inspired meal fenced by lots of lovely plants and cascading creepers, festooned by fairy lights, all enclosed inside a cozy and romantic Green House Bistro.
So if you love everything, Organic, Fresh, and Local, ditch all your plans and arrive here with your loved ones.
Average Cost – INR 1000 (Meal for two)
Location – Jehan Numa Retreat, Van Vihar Road, Prempura, TT Nagar, Bhopal
Timings – 11 AM – 9 PM
Note: You may wonder who closes a café at 9 PM because people in India don't usually finish eating dinners that soon. They close earlier than the regular cafes due to hygiene reasons because the bistro is filled with plants and is surrounded by a huge farm that can certainly attract a lot of insects to your food. So as it gets too dark past 9, the kitchen is closed. The chef recommends the other restaurants at Jehan Numa Retreat if you wish to have late dinners.
Also, there is no signage yet that says Green House Bistro. As you enter Jehan Numa Retreat, drive slow and just look for a wooden signboard that says "Organic, Local, Fresh, Open" to your left. That's exactly the place you are looking for.
Last updated on January 23, 2021
You might also like these!