"Eating and Reading are two pleasures that combine admirably." – C.S. Lewis
If you are a bookworm who goes gaga over the idea of seeing, smelling, and reading books, you have all the reasons to be at The Nerdy Indian Café in Delhi. Tucked in the streets of Said-ul-Ajaib town in Saket, South Delhi, this cozy book café is India's first café that offers you a book every time you come in for a meal.
A Free Book With Every Meal – What's The Real Deal?
The Nerdy Indian Café is one of a kind concept café inspired by the idea of reading and eating together. While you take a comfortable place in the café and order your meals, your eyes will be at their huge rack of books mounted on a classic wall structure which can be called their little library. With a minimum order value of INR 500, the café promises a free book that you can pick from their book rack which has a collection of over 1,000 pre-owned books of all kinds of genre.
The deal here is that the offer applies to every order of the value INR 500. So if your bill adds up to INR 1,000, then you may pick two books of your choice and so on.
Get a FREE Book with Every Meal. Here is How it Works!
Click To Tweet
The creators of this concept; Ayush and Vishal believe that The Nerdy Indian Café is as cool as Antarctica.
"You can literally make your own library by eating at The Nerdy Indian Cafe. One of us has been a nerd and book lover himself and was an ardent follower of book cafes in the city; therefore, we wanted to acknowledge the book lovers around and thus, thought of why not give away a book whenever they would come and dine-in. That's what the original concept of cafés is supposed to be, where books, good food, and music takes over. We have literally built a small quaint space which will transform you to a different land altogether. The collection consists of 1000+ books, and we are constantly replenishing the stock every week for our visitors."

– Ayush Choudhary and Vishal Kochhar, Co-founders, The Nerdy Indian Café
The Nerdy Indian Café Review
Is That It? Not at all. There is so much more to it. Let's find out:
The Décor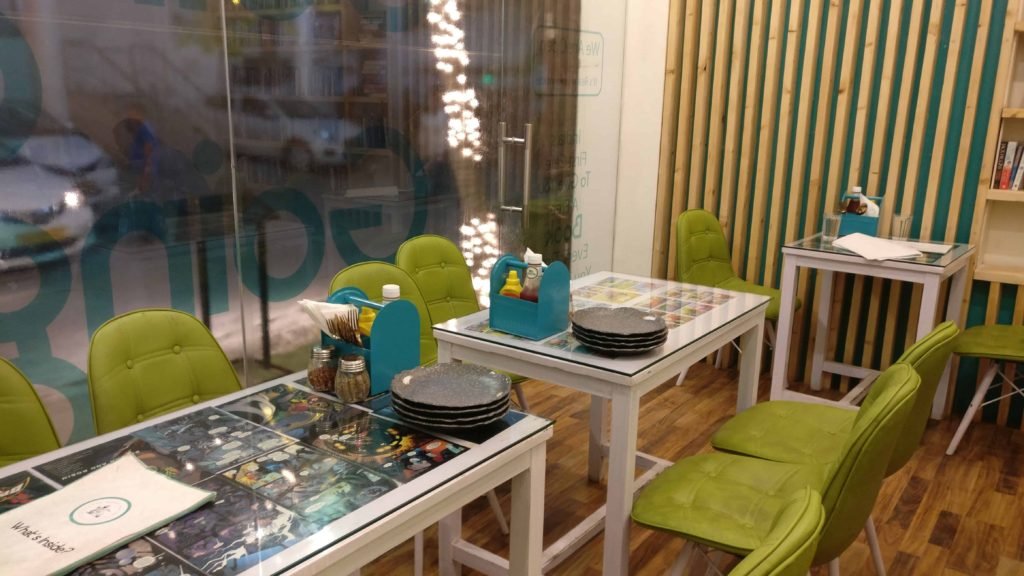 The expression of the café is very lively and inviting. Decked in shades of blue and green, the entire space throws positive energy at you. The interiors are all about books and furniture. Their highlight is the book rack that you just can't miss. You can straight away head to the installation and pick your favorite reads. All their tabletops are covered in comic strips which are fun reads too. You may classify it as a cute little café as it has seating capacity between 15-20 persons.
The outside wall is quite interesting and features a Nerdy Guy in the spectacle, adjusting his bow, and it reads – It's a Match. It truly is, as you seem to have found the right place. They have totally humanized this café by featuring a character named Nerdy who is relatable to anybody who is fond of books. How about clicking your next Instagram picture with Nerdy himself?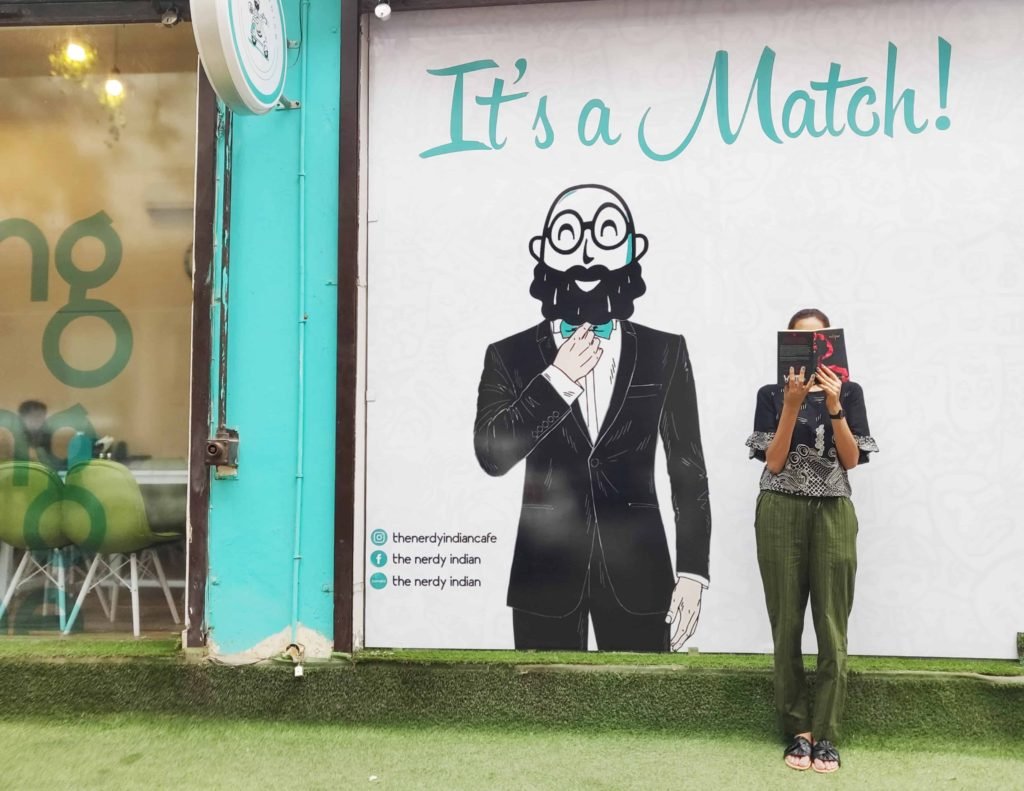 The Food
They have a quirky menu to order from that features over a 100 preparations such as Fresh Salads Appetizers, Tongue Pleasing Combos (Served With Chutney Wale Pyaaz, Raita, Kurkuri Bhindi & Bhavnagri Chilli Pickle), Drool Worthy Gravy Momos, Double Decker Grilled Sandwiches, Keep Calm & Eat Sliders, Shake That Fries On Me, Durum Wheat Pastas, 10″ Thin Crust Hand Tossed Pizzas (Baked With Italian Pomodoro And Fresh Mozzarella Cheese), Coals Of Clay Oven, Desserts, Ye to B(u)nta Hai, Old School Ice Cream Shakes and Thandi Coffee (Made From Pure Milk.)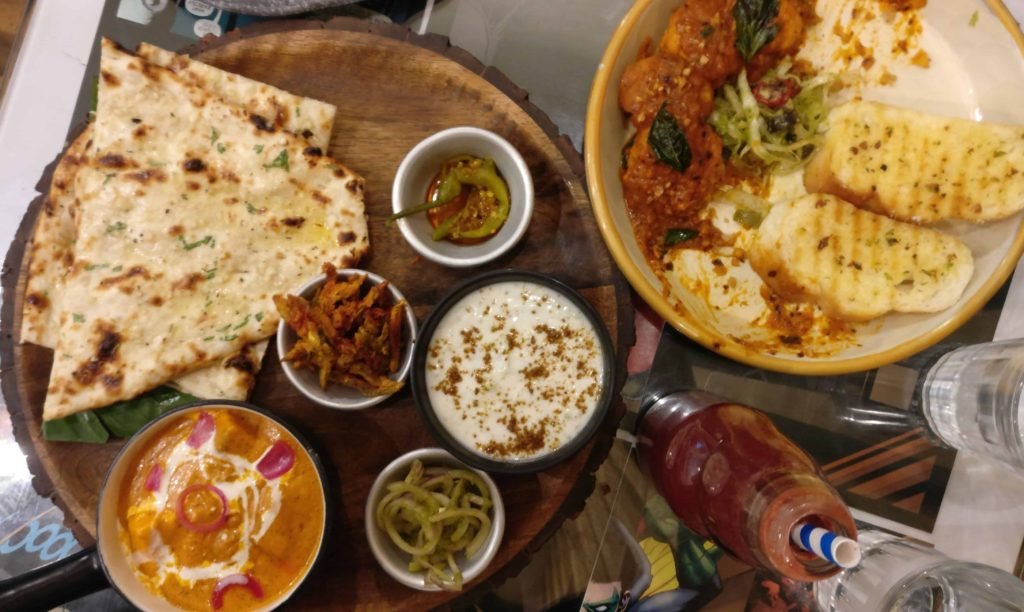 Most of these are available during lunch and dinner hours while a few are only made between 18:00-23:00 hours.
Do you Smell Books and Good Food?
You can come here on a date with your nerdy partner or with a bunch of other bibliophiles or may even drop in solo and solely interact with the whole rack of books. Or how about bringing your little ones here and encouraging them to read while they enjoy the yummy food?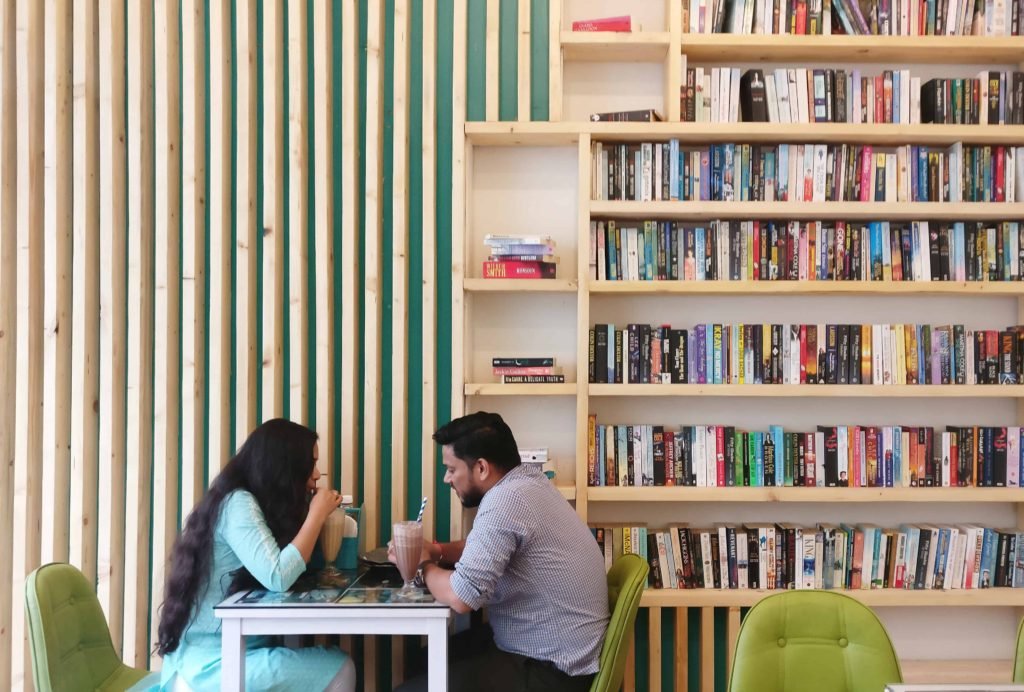 I think it's time to Bookmark this café!
P.S. If you also believe in good deeds, you may even donate books from your personal collection and add it to their mini library for others to read.
Location: 634, Lane 3, Westend Marg, Saidulajaib, Saket, South Delhi (Close to Champa Gali)
Timings: 11 Am To 11 Pm
Price: INR 500 for two
Nearest Metro Station: Saket Metro Station, Delhi (Just a 10-minute walk from the station or INR 30 by Auto Rickshaw)

Last updated on November 21, 2019
You might also like these!