We have all tasted and prepared good portions of Honey Chilli Potatoes, Honey Chilli Mushrooms, Honey Chilli Lotus Stems, and all different vegetarian versions of the Honey Chilli at various parties and eat outs. But have you ever thought of adding fruits to a Chinese sauce? If you bored with preparing the regular Chinese starters and want to add a fruity twist to your meal, this recipe is for you!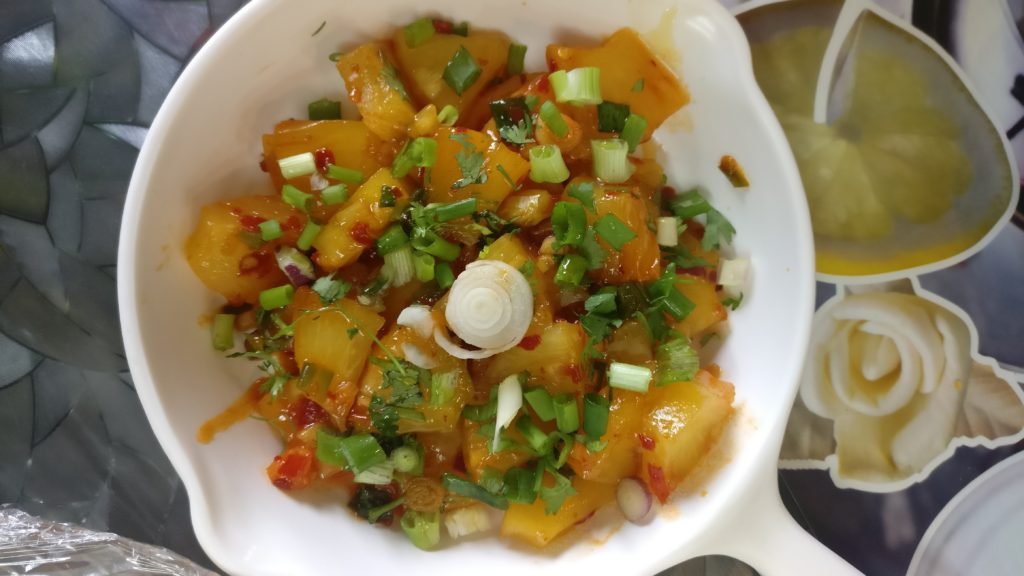 Honey Chilli Pineapple is a super delicious appetizer – pineapple dices tossed in a sweet and spicy sauce, along with freshly chopped garlic and spring onions.
Why Pineapple?
Pineapple is used in so many salads, cocktails, mocktails, and dessert recipes and has even made it to our pizza toppings, owing to its natural sweetness and freshness. But its use in savory preparations has been limited and unexplored to an extent. Incorporating pineapples into your diet can work wonders as they are low in calories and are loaded with amazing nutrients and anti-oxidants.
My idea of adding pineapple to a Chinese sauce is to bring out its versatility and hero its savory profile.
Did you know? Pineapple originally calls Brazil as its home and is native to South America. The European explorers named it "pineapple" for its resemblance to a pine cone.
How to make Honey Chilli Pineapple?
Unlike the usual Chinese recipes that may keep you worried about your health, this one involves no coating in refined flour batter and deep frying and instead, only needs a dash of oil. When you eat Honey Chilli Pineapple, what really stands out is the tenderness of the sweet and tangy pineapple (since it is uncoated) and a hint of spice that makes it so awesome. That's what this healthy Chindian recipe is all about.
Honey Chilli Pineapple Recipe

Prep Time: 10 Min | Cook Time: 10 min | Yields: 4 Servings | Category: Starter

Cuisine: Sino Indian (Chindian)
Ingredients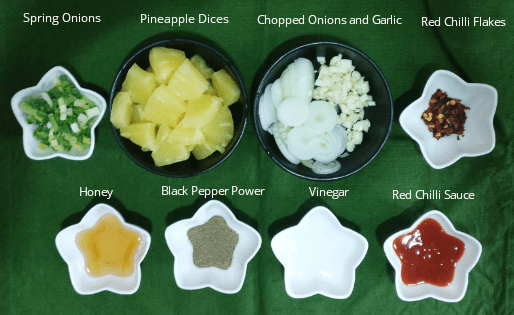 5-6 canned or fresh Pineapple Slices (Cut the slice into small dices)
1 tablespoon Oil
1 teaspoon Red Chilli Flakes
1 teaspoon Black Pepper Powder
1 teaspoon Vinegar/Lemon Juice
1 teaspoon Red Chilli Sauce
1 tablespoon Honey
2 tablespoon finely chopped Garlic and Onions
1 tablespoon chopped Spring Onion (green part)
Cooking Instructions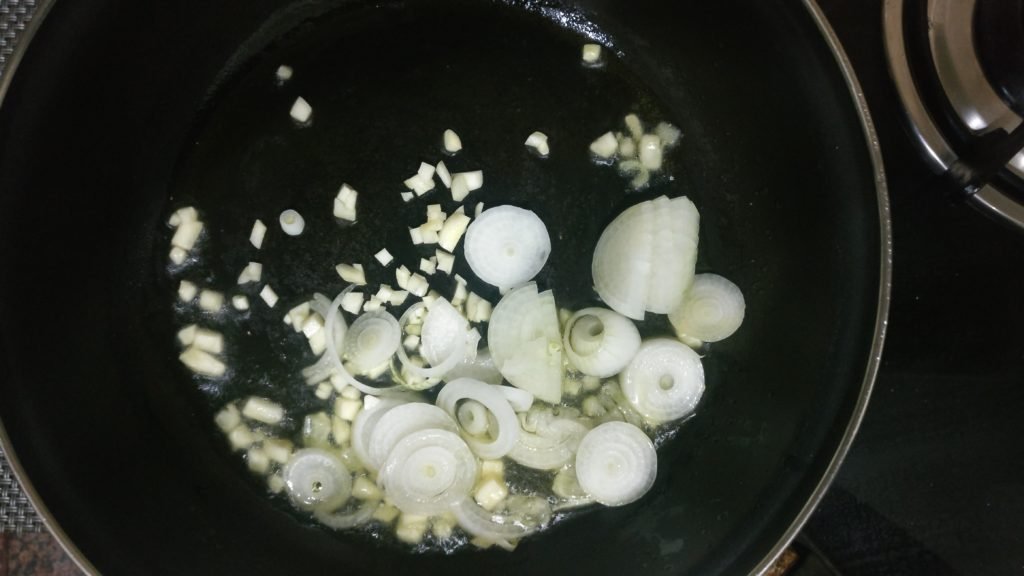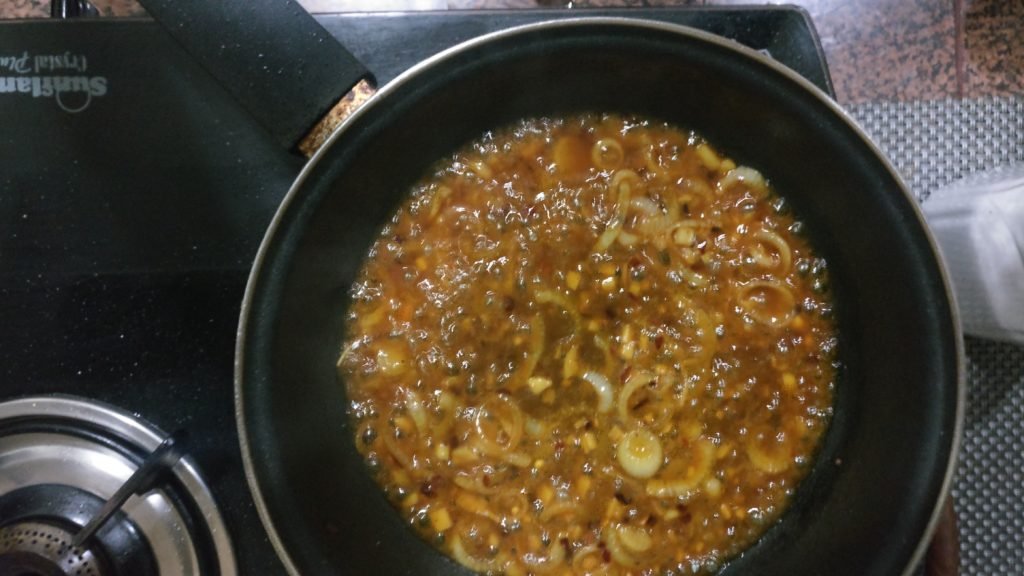 Heat 1 tablespoon oil in a wok, add chopped garlic and onions and stir fry for a few seconds. Add chili flakes and pepper and sauté for another minute to toast them. Now add vinegar, red chili sauce, and the honey and stir together. Add a dash of water in the wok and stir for a few seconds till it cooks.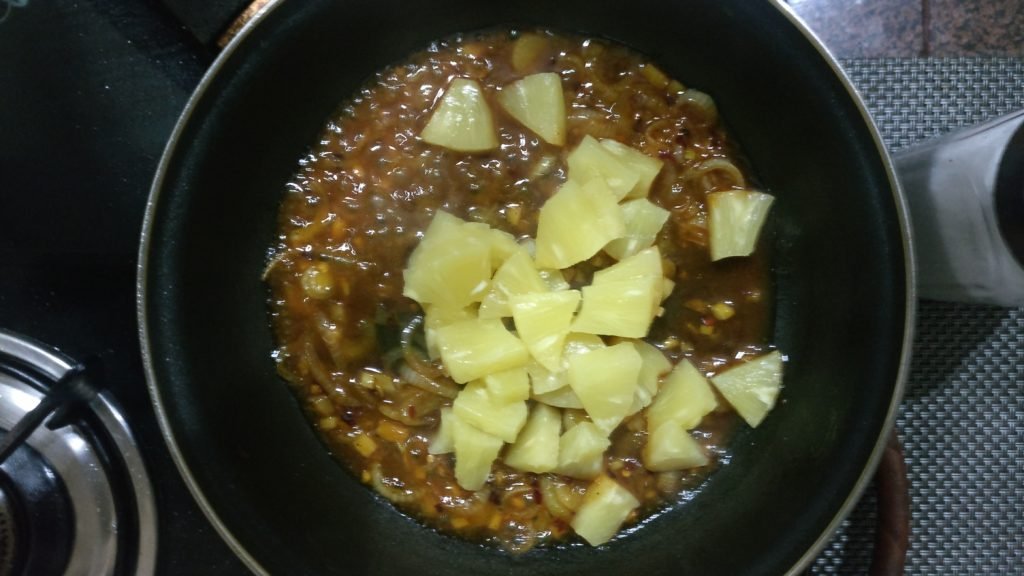 Now add the pineapple dices and spring onion greens and toss them together so that they are coated evenly in the sauce. Switch off the flame and serve it hot directly on a wok or in a serveware, garnished with some more spring onion greens.
Notes:
You may change the consistency of the sauce using water and cornflour depending upon your idea of serving the starter. It can be dry, semi-gravy, or gravy.
If using fresh pineapple instead of canned, soak your slices in sugary water for about 4-5 hours before cooking time so that they become sweet, tender, and juicy.
It is important to cut the pineapple dices in similar shapes so that they cook evenly.
If you love vegetables, you can also add diced yellow, red, and green bell peppers to the sauce as they taste great with pineapple, add a slight crunch and make the dish look even more colorful.
Any Chinese food is best cooked in a wok as it works great on high flames and provides enough space to toss the items around. But if you don't have one, just use a frying pan.
If you make this recipe, do tag @nikitatheurbannomad and hashtag it #foodgravy on social media. If you like it, drop in your comments or write to me at nikitakothari148@gmail.com

With all gratitude, this recipe is adapted and inspired by my Aunt Mrs. Sheetal Ranka (Pune).
Last updated on January 23, 2020
You might also like these!