Have you ever associated food with a feeling? Has a certain fragrance of food or taste of something you ate made you nostalgic? Does it ever remind you of a particular time, invoke a memory from your childhood, or simply make you happy and satisfied? I think food can evoke in us various emotions. And surely all of us have a favorite dish or favorite place to eat. I love to experiment, try out new things, different flavors, cuisines, and locations. But my love for Kashmiri food has a permanent place in my heart.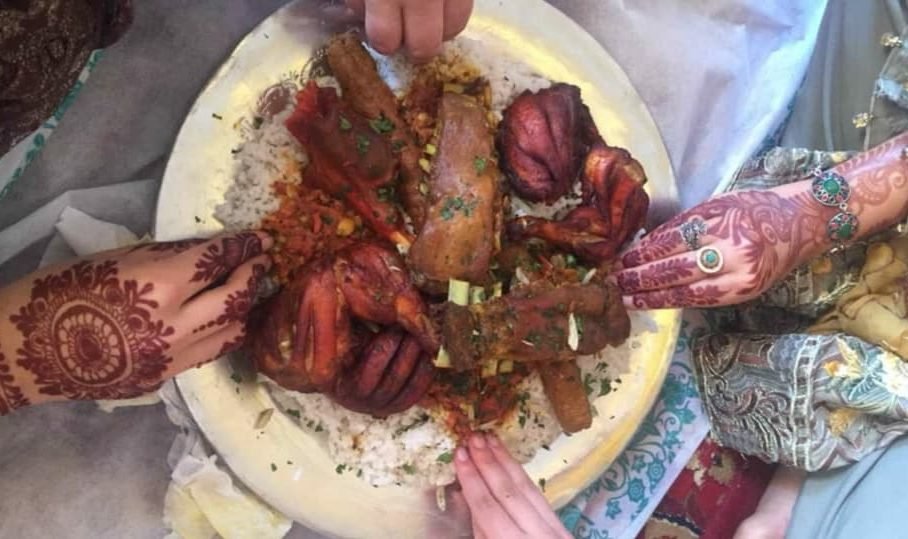 Experiencing the culture of any place remains incomplete without trying out its local food and food habits. Kashmiri cuisine, known as Wazwaan, is the pride of its culture. It's flavorsome; it's royal and definitely mouth-watering. It is a multi-course meal, almost 36 dishes to be precise, mostly made from lamb or chicken with a few vegetarian dishes. Of these, about 15 to 20 are the most important ones and are prepared overnight under the supervision of a special cook known as waaza. Made mostly for big occasions like weddings, the preparation of it is a ceremony in itself. Days of planning and hours of cooking are required for making these dishes. It is cooked in nickel-plated copper vessels, which are directly kept on simmering fires of wood, preferably from old fruit trees. The serving of it is also quite unique and depicts a mix of tradition and kinship. Eating together like this brings people closer and builds warm interactions and relations. It fills you with laughter through jokes, gossip, and delicious food.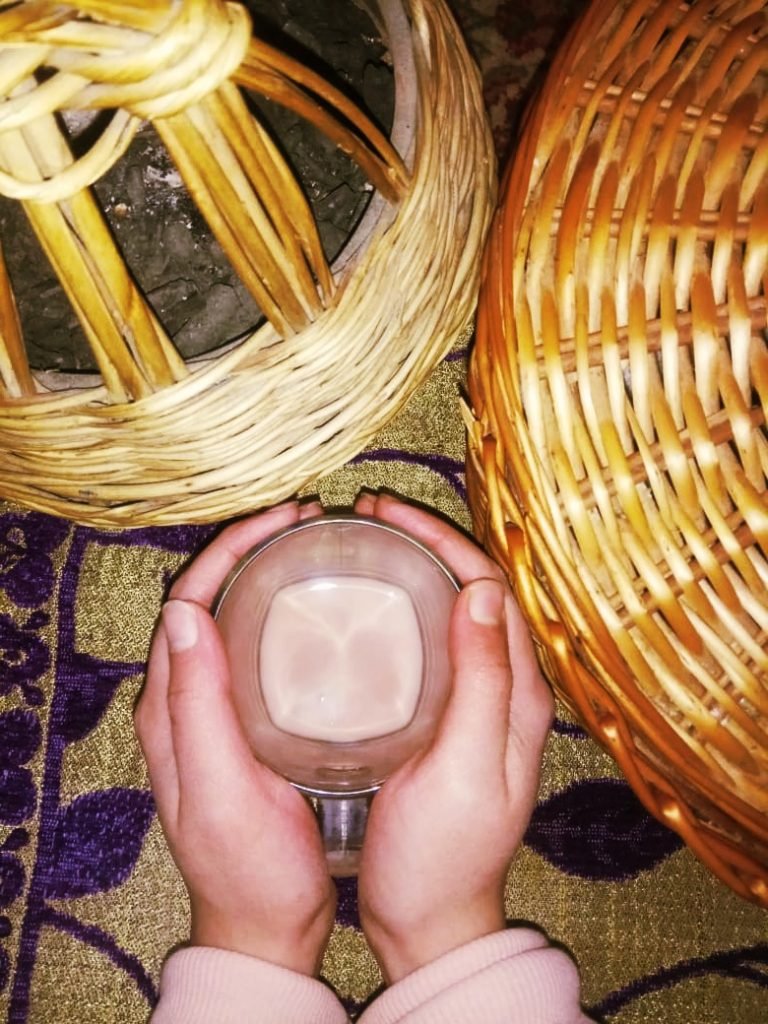 Before the food arrives, all the guests are made to wash their hands from a special vessel called Tash naer. And then the gastronomical ride begins. The food is brought on a big copper plate called Traami, which is shared by four people who sit together for the meal. A thick layer of rice is firstly brought, which is topped with mutton seekh kababs, tabakh–maaz, which is glossy meat made of lamb ribs, mutton pieces, and chicken pieces. After this, one by one, different dishes arrive served by the waaza himself to all the guests. Rista is the red meatball prepared from mutton, which is manually minced by a wooden hammer over a stone platform, and all the spices are added during this process. RoganJosh is tender lamb pieces cooked in Kashmiri spices. Then there two different dishes of mutton korma. One is cooked in a lot of coriander with yogurt-based gravy. And the other is made with fiery hot Kashmiri chilies and spices. Lahabi kabab is almost boat-shaped flattened kabab made in yogurt spices and coriander. A very mild and tender dish is Aab Gosh, which is juicy meat cooked in a milk-based gravy. The finishing dish is Gushtaba, which is a velvety-textured meatball prepared the same way as rista. The difference is that it is made in curd. Apart from these main non-vegetarian delicacies, wazwaan also includes Paneer made in a simmered tomato sauce flavored with rich Kashmiri spices. Saag and palak and dum aloo are also served, which are also prepared in a unique Kashmiri style.
On the side are available Kashmiri pulao, a rice dish prepared with dry fruits and nuts and flavored with saffron and aromatic spices. Curd is traditionally served in earthen pots, and salad and pickles are also available. There are also some specially made chutneys like walnut chutney, which is made with walnuts, yogurt, and green chilies and very spicy onion chutney, made with soaking sliced onion in vinegar along with some dried mind and adding a good amount of red chili powder. Almost the entire process of making this cuisine and the preparation involved in making the dishes or their components are performed manually. Kashmiri cuisine marks its own significance because of the naturally sourced flavors and spices used. Just like these various delicacies, some Kashmiri beverages have made their mark by being a mixture of complexity and simplicity. A very popular Kashmiri beverage is Kehwa. It is made by carefully brewing cinnamon, cardamom, and saffron till all of their flavors mix with the water. It actually has many health benefits. It can be served after heavy meals as it helps in digestion and improves metabolism, keeps the body warm during cold winters, and is also very good for the throat. Traditionally it was prepared is a copper vessel known as samovar, but daily, it is now made in normal pans.
Other than this, Noon chai or shir chai is also a specialty of Kashmir. It is made from a different variety of tea leaves. A pinch of baking soda added gives it its pronounced pink color. Kashmiri cuisine requires excellent precision and knowledge of spices and herbs. A lot of time and effort goes behind its preparation. It requires the expertise of a waaza who always works beyond perfection, from choosing the exact spices to the type of meat to be used, they work as artists do and present to us their masterpieces.
Last updated on February 23, 2020
You might also like these!