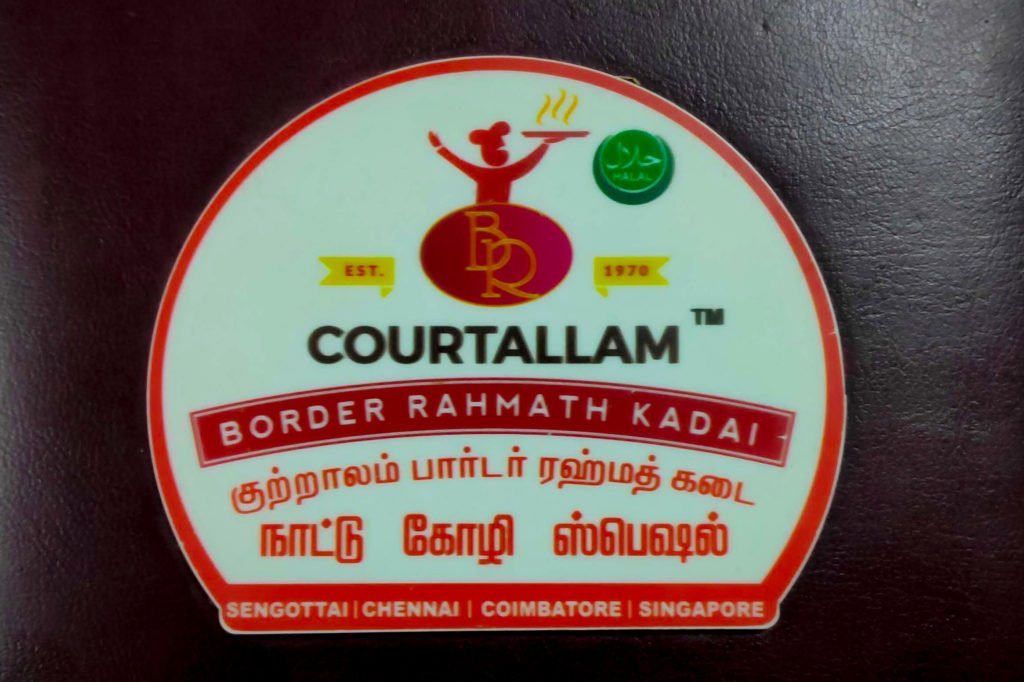 Courtallam Border Rahmath Kadai – a lengthy restaurant name that is very well known in and around Tamil Nadu and perhaps beyond it as well. It is a chain of restaurants running in several places – to be precise, five in Tamil Nadu and one in Singapore. And when we are specifying it as a chain of restaurants, we think of it as a posh restaurant serving multicuisine food. But the eatery has its humble beginnings at a small town called Sengottai in Southern Tamil Nadu. Also, it is not a multicuisine restaurant. It specializes in South Indian cuisine with its chicken dishes made only from country chicken. There are quite a few popular items from the menu, which is unique to this establishment like Coin Parotta, Pichu Potta Nattukozhi Fry (shredded country chicken fry), Gun Chicken, and its special salna. Do not worry if you are not aware of these foods, as I will explain them along with the review of the restaurant.
During my visit to Courtallam (also called as Kutralam by the locals), this eatery was a part of our must-visit places. But we had only one day to spend at Kutralam, and we failed to reach the place on time. Although the eatery serves lunch, it gets quite busy during the evenings. On our trip, we just had one day to spend at Kutralam, and we failed to visit the original Border Kadai. We just had dinner at just another parotta stall among a dozen other mediocre ones in the town. Rightfully so, we were disappointed with bad service and taste. You also can check out my travel writeup about my trip to Kutralam in this link: Kutralam – The Land of Myriad Falls! Only the dinner that night was bad, but the trip turned out to be a memorable one. Still, I had Border Parotta Kadai at the back of my mind even after I reached Chennai. And when I came to know about the branches in Chennai, I planned and visited the T.Nagar branch.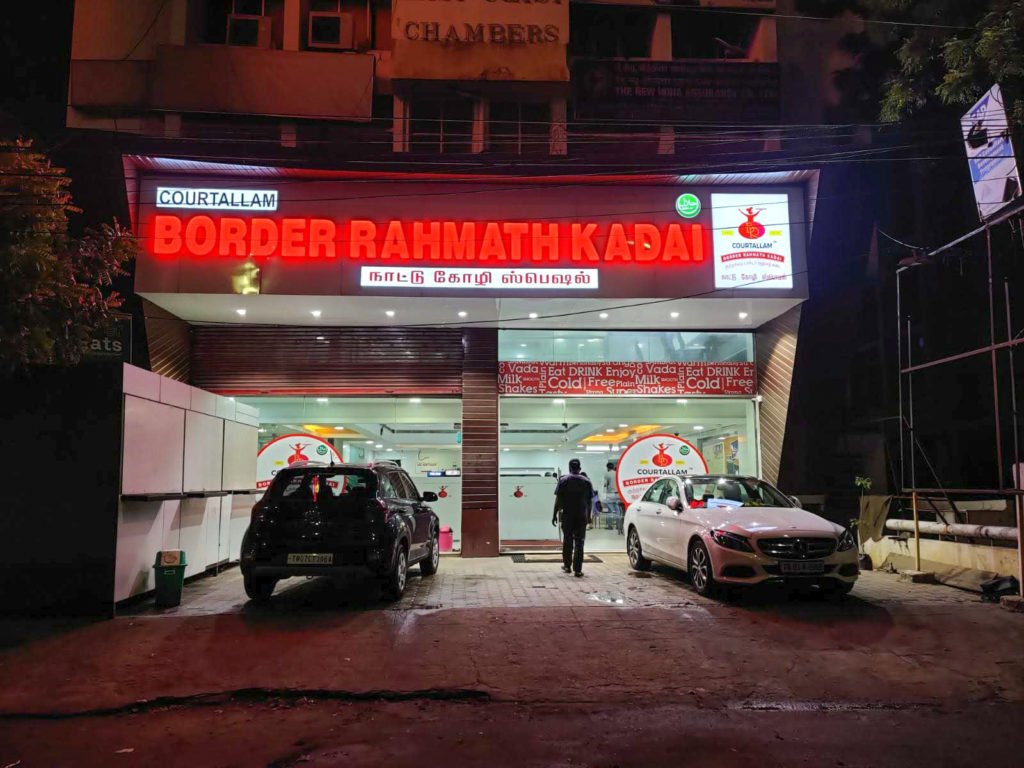 About Courtallam Border Rahmath Kadai
As informed earlier, Courtallam Border Rahmath Kadai was started as a small eatery in 1970. When it opened, the menu was minimal with just tea, parotta, and chicken gravy. It is just referred to as "Border Kadai" which literally translates to the shop at the border. It got its name as it is situated in the border between Tamil Nadu and Kerala. The shop served as a default stop for lorry drivers driving through the state highway. But due to its growing popularity over time, the management expanded its menu. And by management, I mean Mohammed Hassan – the founder. While speaking with the founder's grandson Raja (who now is managing the Chennai branch), we were told that the establishment uses only country chicken grown in their farm back at their hometown. Also, the recipe for their specialty dishes is a family secret. Even the enticing masalas are shuttled from hometown. High-quality pepper and coconut oil are procured from Kerala. He assertively said that the combination of the masalas and the quality products used owes to the taste of the dishes.
Courtallam Border Rahmath Kadai (Review)
Parotta: Parotta is a multilayered flaky South Indian flatbread made from refined flour. There are few popular parotta variants in Tamil Nadu, differing from region to region. Tirunelveli parotta is at the helm, and Courtallam Border Rahmath Kadai plays an important role in its popularity.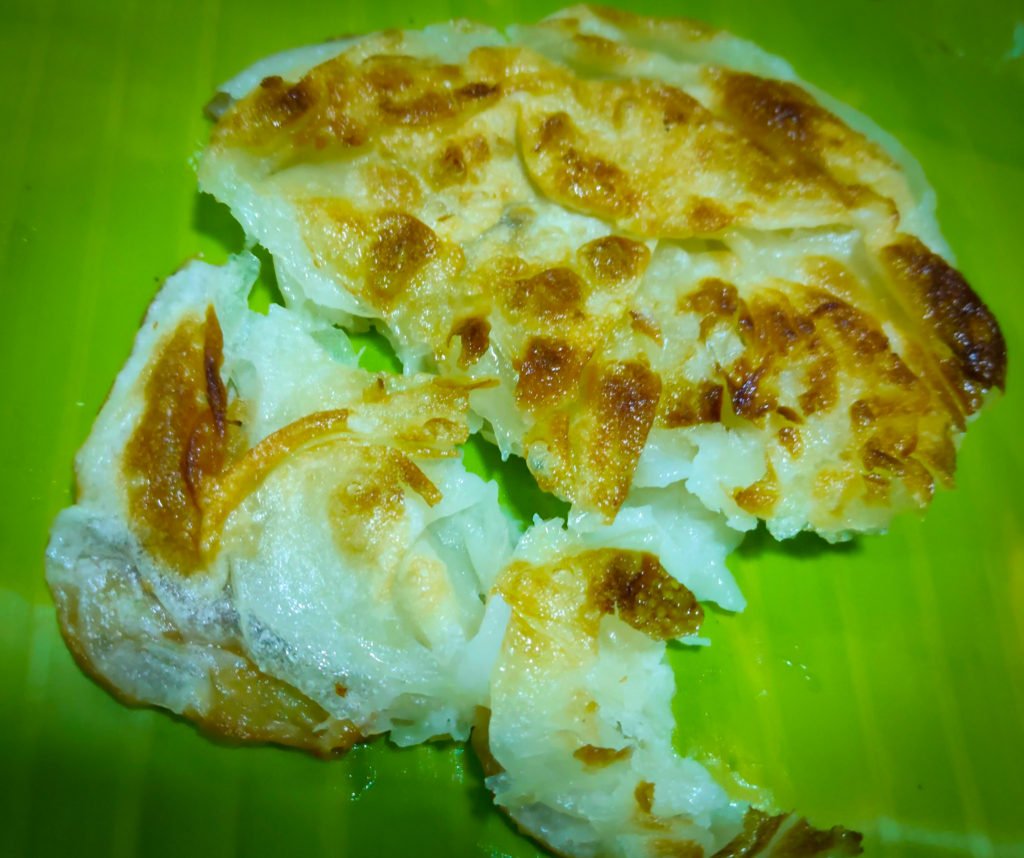 Border Kadai has Coin Parotta, Puff Parotta, and Wheat Parotta in its menu. Coin Parotta is a very small parotta compared to the parottas available elsewhere. The dish is a staple in this establishment.
---
Puff Parotta, on the other hand, is a stouter version of the coin parotta, which is shallow fried in ghee or oil as per the customer's requirement. Puff Parotta is essentially a fancy name for Madurai Bun Parotta as it takes the shape of a bun (or a puff pastry in this case). Both the parottas were crispy on the outside with a golden shine but tender inside.
For those who would like to avoid the usual parottas made out of refined flour (Maida), Wheat Parotta is an alternative. To be honest, it was just a soft layered chapati (thin roti). There are also other variants like Veechu Parotta (a very thin parotta resembling a sheet), Kothu Parotta (heavily diced parotta scrambled along with the signature salna), and Ceylon Parotta (egg, chicken, or mutton stuffed parotta). Nothing special to rave about them.
Rating: 3.5/5 – Parotta is a default dish to be ordered here.
---
Salna: Salna is a watery gravy served along with parotta. Usually, salna would be watery and might be underwhelming at certain places if it is a bit too runny. Finding the right consistency, along with the taste is essential for a good salna. Afterall, salna is the dish that enhances the flavor of any parotta.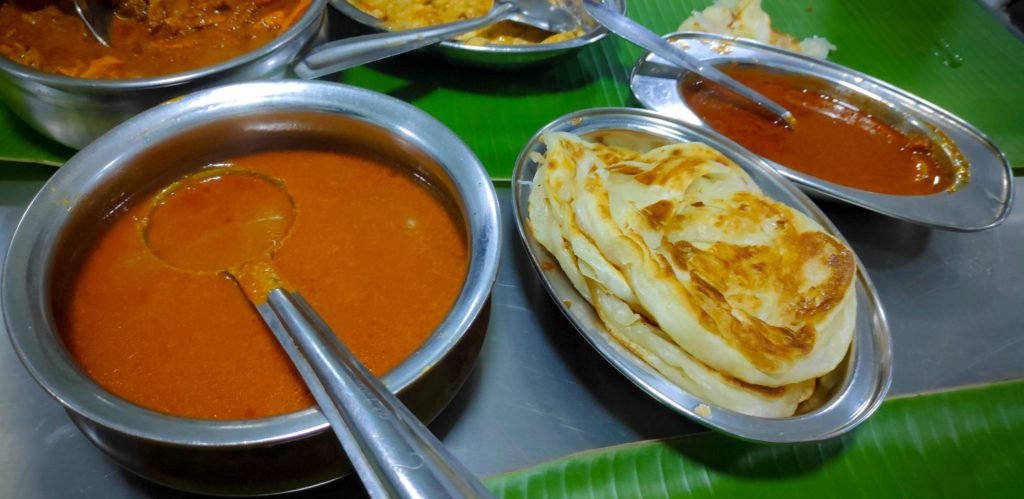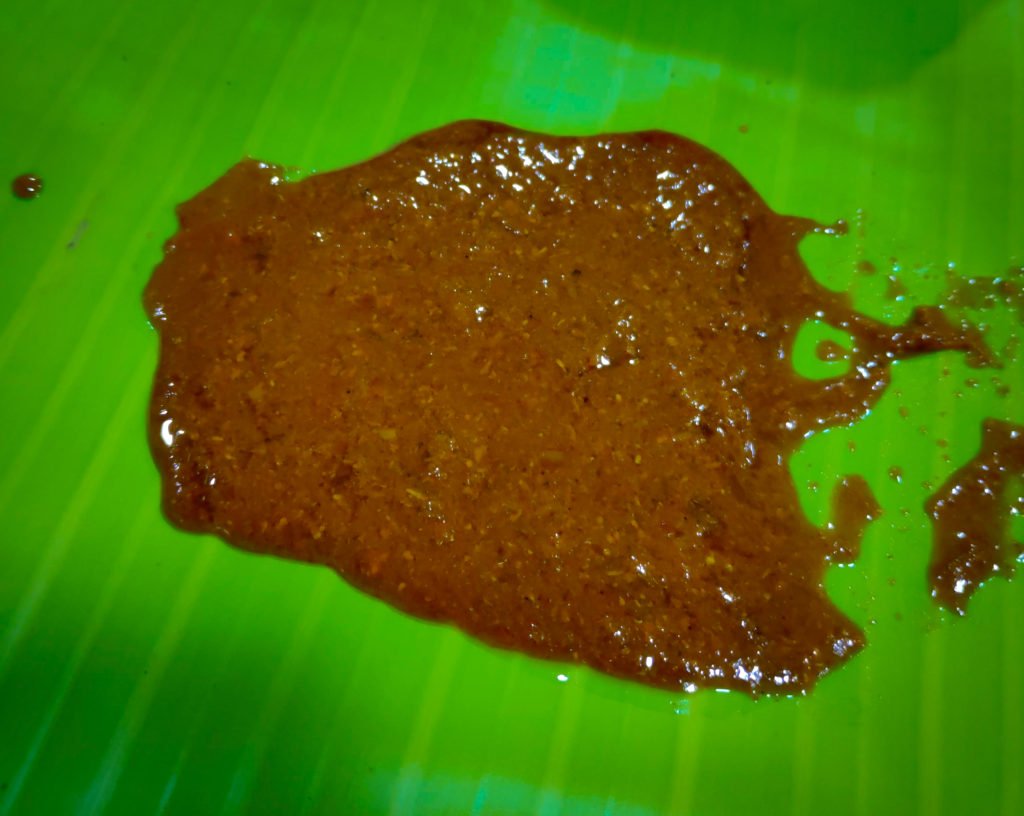 Courtallam Border Rahmath Kadai is known for its unique salnas as well. The main chicken salna has an earthy flavor to it. The consistency is perfect for soaking the parotta. Yes, that is the approved way to eat a parotta – tear down the parotta into shreds and soak it with salna for eating.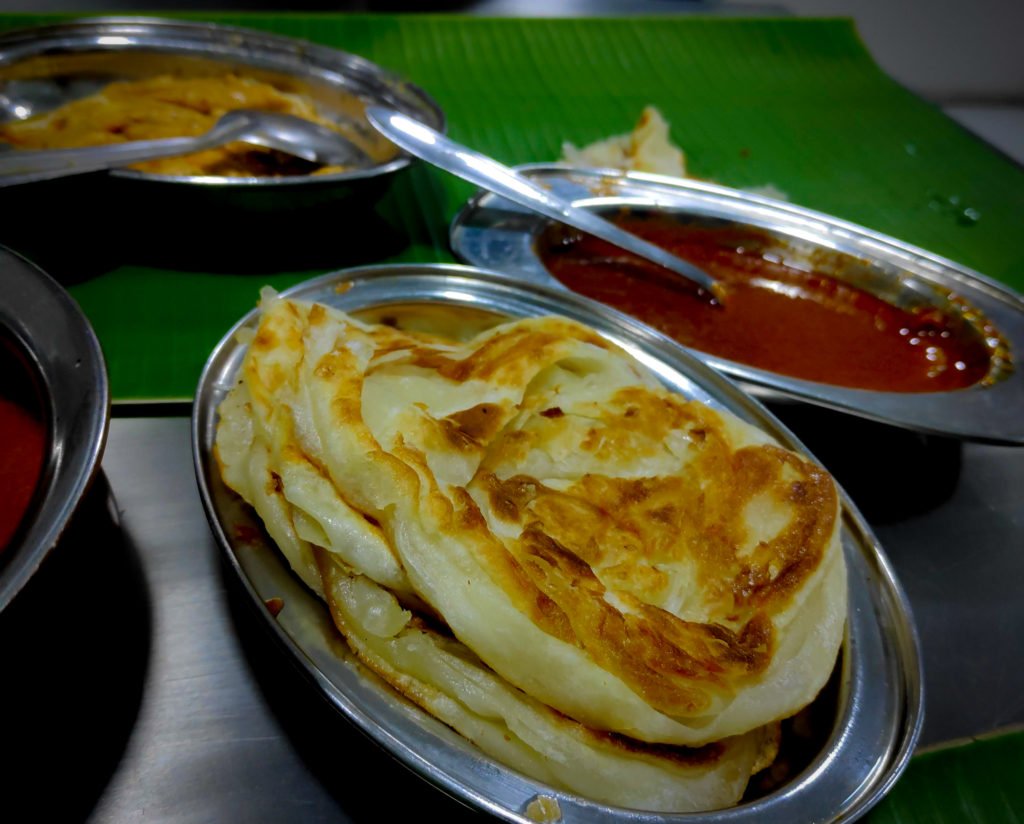 Apart from this, there is a special salna available at this shop – a spicy coconut oil salna. They use the coconut oil used for deep frying chicken and reduce it to a thick spicier salna. You will not get this salna anywhere else (at least not this tasty).
Rating: 4.5/5 – Best salna you will get anywhere in Tamil Nadu!
---
Salna Parotta: Salna parotta is available on the menu. Shredded parotta is soaked in two types of salna in the right proportions and served. I avoid soaking my parottas in salna, as I prefer the crispy crust.
But to my surprise, salna parotta at Border Kadai destroyed my belief. It was a calculated amount of shredded parotta and chicken swimming in a bowl of salnas. If you have some extra room after finishing the main course, then I would suggest you get a Salna Parotta.
Rating: 3/5 – Exceeded my expectations.
---
Pichu Potta Nattukozhi Fry: This is an absolute winner. Best dish of the lot. Though the name sounds complicated, in fact, it is a very simple dish developed over years of experience. Country chicken boiled in spices is shredded to small pieces, then stir-fried over a hot iron slab. While stir-frying, generous amounts of black pepper powder along with diced shallots and curry leaves are added. It was served piping hot, and every one of us having the dinner loved it. With well-done exterior and juicy interior, the dish stole our hearts.
Country chicken is tricky to cook as it might get hard and chewy if boiled longer than required and might be smelly if undercooked. Also, it does not have as much meat compared to the broiler chicken. So, preparing a juicy country chicken is a difficult art. With a simple yet well-plotted recipe, Border Kadai serves the best country chicken dish in the state, in my opinion. This is a MUST TRY dish if you are visiting the hotel. You can even visit the place just to try out this dish. It is that good!
Rating: 5/5 – the best country chicken dish I have ever tasted. You will not get this dish anywhere else.
---
Gun Chicken: This is another specialty of the establishment. The country chicken leg along with thigh (resembles the shape of a gun) is marinated in their secret spice mix and deep-fried to perfection. No direct complaints about the dish. I would say with a fancy name, they have marketed the product well, but it was a bit underwhelming after trying the Pichu Potta Nattukozhi Fry.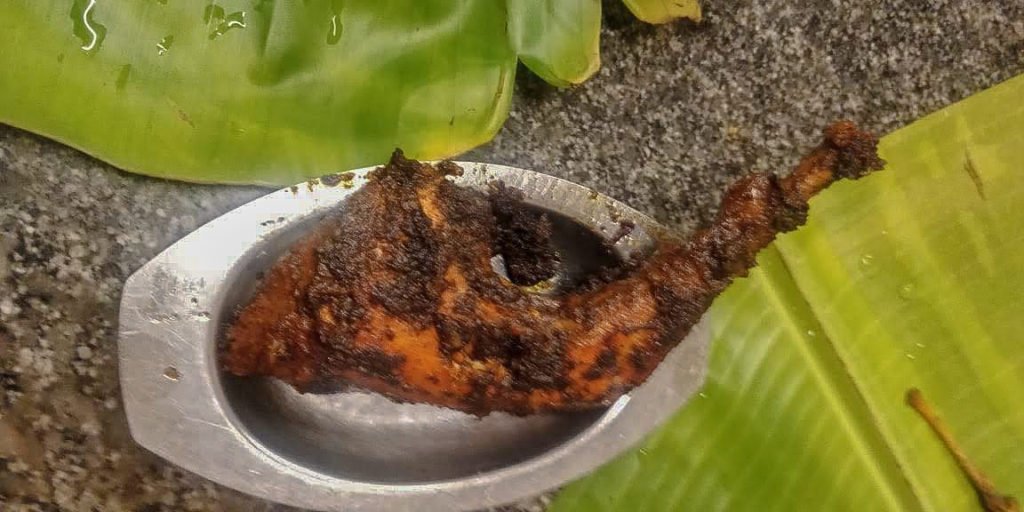 And remember the special spicy salna? The oil used for frying this chicken would be filtered to extract the spice for the salna. Personally, I might skip Gun Chicken the next time I am visiting Border Kadai and get myself another plate of Pichu Potta Nattukozhi Fry. But for chicken fry lovers, instead of having the usual Chicken 65, this sure would be refreshing.
Rating: 3/5 – A decent amalgamation of tangdi kabab and chicken 65.
---
Idiyappam: Idiyappam a.k.a string hoppers is not a go-to dish at Border Kadai. We ordered an Idiyappam Mutton Kothu. String hoppers are finely chopped along with boneless mutton pieces and salna to form the Idiyappam Mutton Kothu.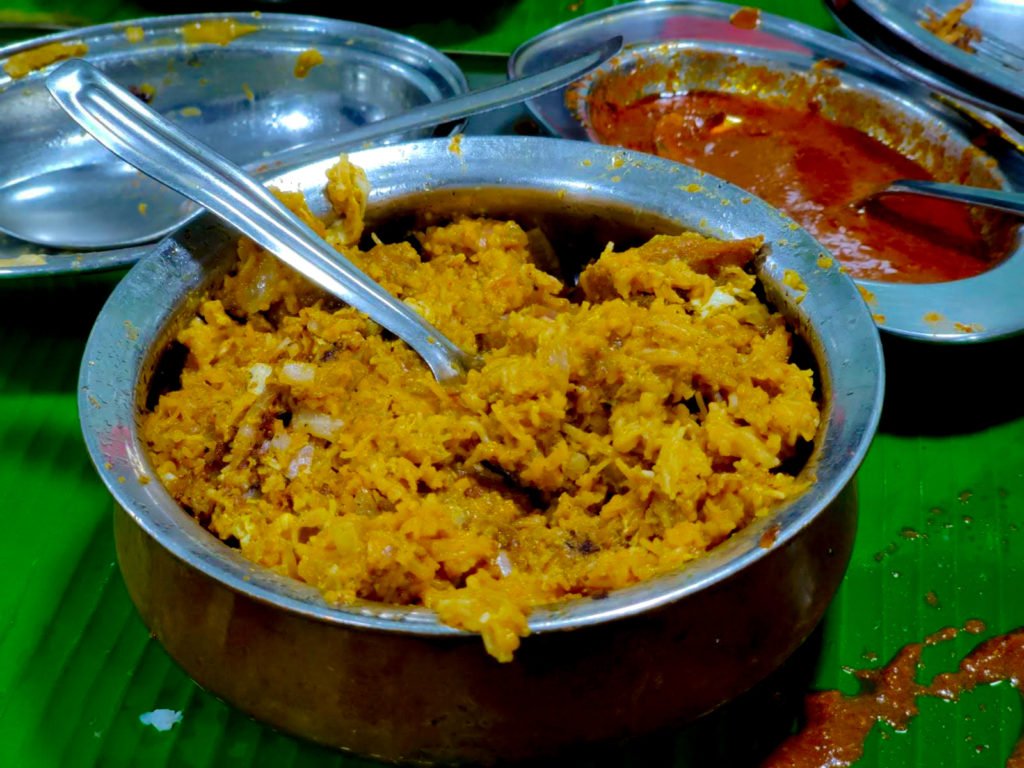 We ordered it right at the end of our dinner, and we could not finish it off. The dish tasted decent, but since we already devoured on other main dishes, almost half the bowl was left untouched. I found the dish to be too soggy. You actually can get plain steamed idiyappam and enjoy it with salna.
Rating: 2/5 – I would skip it the next time.
---
Eggs: There is an extensive list of egg dishes here. We got a half boil, Karandi Omelette, and Masala Kalakki. They were tasty as expected. Once again, the salna elevated the taste of Masala Kalakki.
Also, we ordered one Nattukozhi Chicken Podimas. Actually, the dish was listed under the chicken menu. But I believe the scrambled egg outnumbered the shredded chicken in the bowl. Still, it is a nice item to be a part of the menu.
Rating: 3/5 – Better egg dishes than the usual.
---
Beverages: The restaurant being South Indian cuisine had only locally made bottled sodas. To end the heavy meal, all of us had different flavored soda – lemon, orange, and pineapple. A unique flavor (and my favorite too) called paneer soda was over by the then. The sodas were of good quality and resulted in a relieving burp.
Rating: 3/5 – A required ending to cool off the palette.
Courtallam Border Rahmath Kadai – Verdict!
Being a restaurant that uses country chicken and coconut oil widely, Courtallam Border Rahmath Kadai or Border Kadai, as it is informally called, was a revelation for me. For those who prefer broiler chicken, kindly give this place a try. Country chicken, when cooked to perfection, becomes an equally good chicken dish, if not a better one. I was able to visit the restaurant-quality branch here in Chennai after I missed out on the original shanty branch in Sengottai. Although I hear the taste and quality is equally good in all its branches. Also, there are numerous copycat restaurants not just in Kutralam, but in Chennai as well. I have been fooled a couple of times here in Chennai, where similar named restaurants failed to deliver taste and quantity for an overpriced menu. So, look out for the name – Courtallam Border Rahmath Kadai.
Overall Rating: 4.5/5 – A must-visit place to explore yummy dishes made out of country chicken!
Written by Sabari Nath and photos taken by Manikandan.
Last updated on March 17, 2020
You might also like these!