Tel Aviv, Israel calls itself the vegan capital of the world. And very truly so! It boasts of at least 400 vegan and vegetarian-friendly restaurants all over the city along with the tantalizing shuks or markets all around. Allow me to take you through a drool-worthy culinary journey across one of the most famous markets – The Levinsky Market.
Levinsky Market (Tel Aviv) – Review
It was a Friday and shabbath, the Jewish day of rest was here when after a tedious week, a few friends decided to explore the amazing food at Levinsky. Walking down the narrow lanes at Levinsky, we were already greeted with the beautiful sights and scents of the market much before we even reached our destination at the far end of it.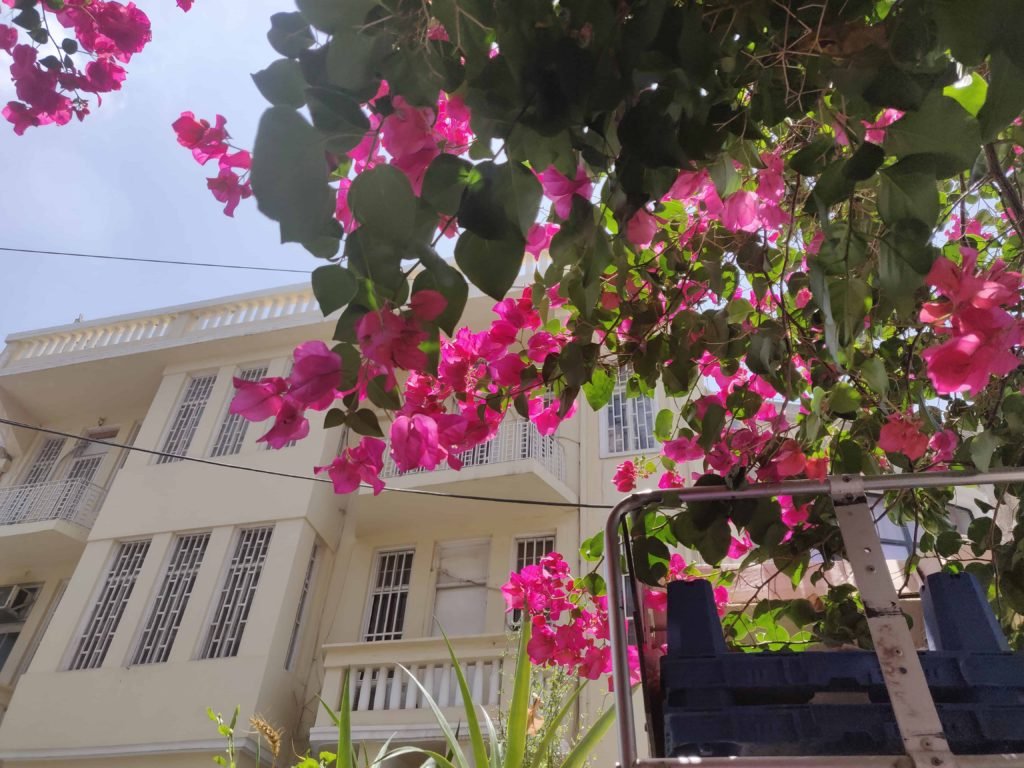 Walking by the beautiful bougainvillea, our first stop was the iconic Café Levinsky, known for its specialty drinks. They have a selection of tarts, lemon squares, chocolate balls and are said to have the best coffee around, by the locals. But we went for the iconic fermented fruit soda which came with a whole fermented apricot, fermented cherries, fresh melon squares, a whole carob fruit to suck on, some local herbs and filled with soda to the very brim. The beauty was topped with a gorgeous flower, making it stereotypically worthy of Instagram. They also served kombucha and several flavor extracts and some very interesting art.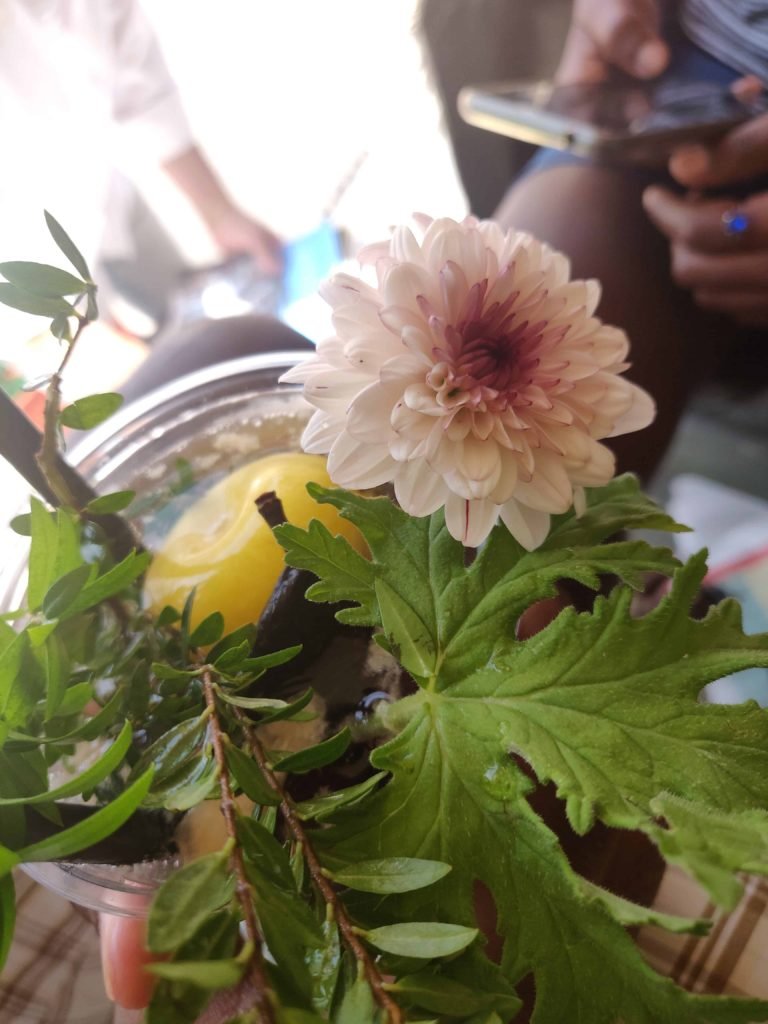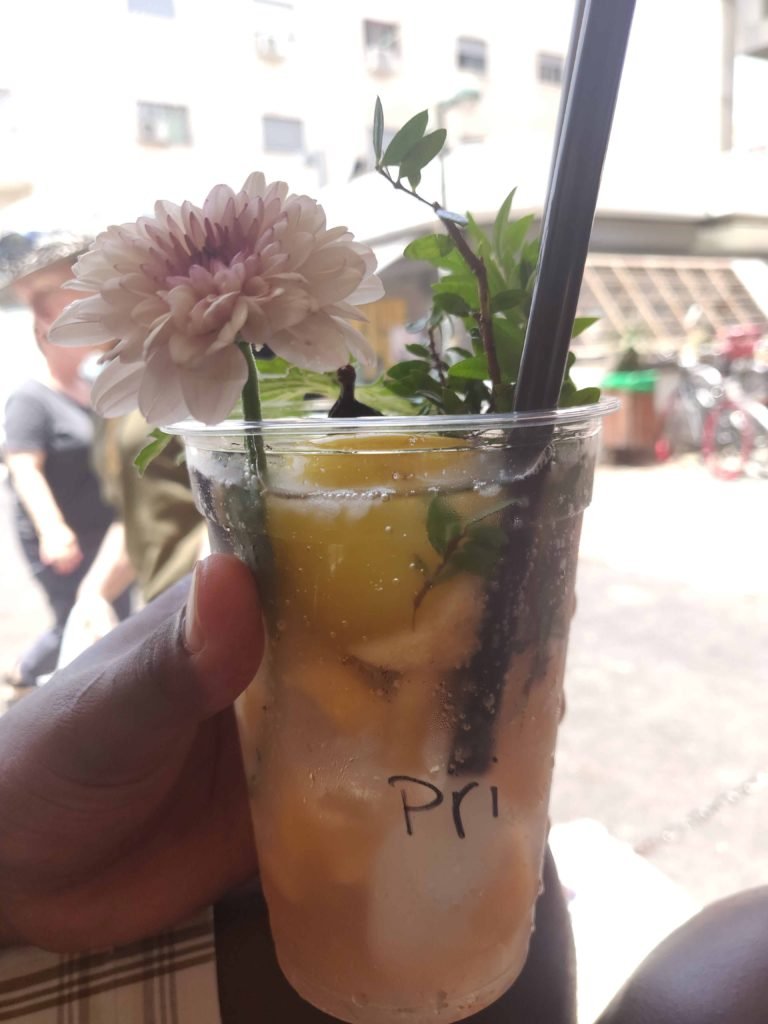 Moving forward, we dropped by an authentic Mediterranean pickle shop, where we took the liberty of sampling some of the signature olive pickles and then moving on to the more unconventional cherry and pepper ones. The shop right beside it had the most extensive collection of Mediterranean dips that I had ever seen. The raw tomato (salsa-like) dip and the roast pepper dip were my favorites. They also had baba ganoush, the classic middle eastern aubergine dip, pesto and, of course, hummus. But we did not try the hummus here because, well, read on. The blue cheese dip stood out. So did the vast collection of various kinds of soft and hard cheeses.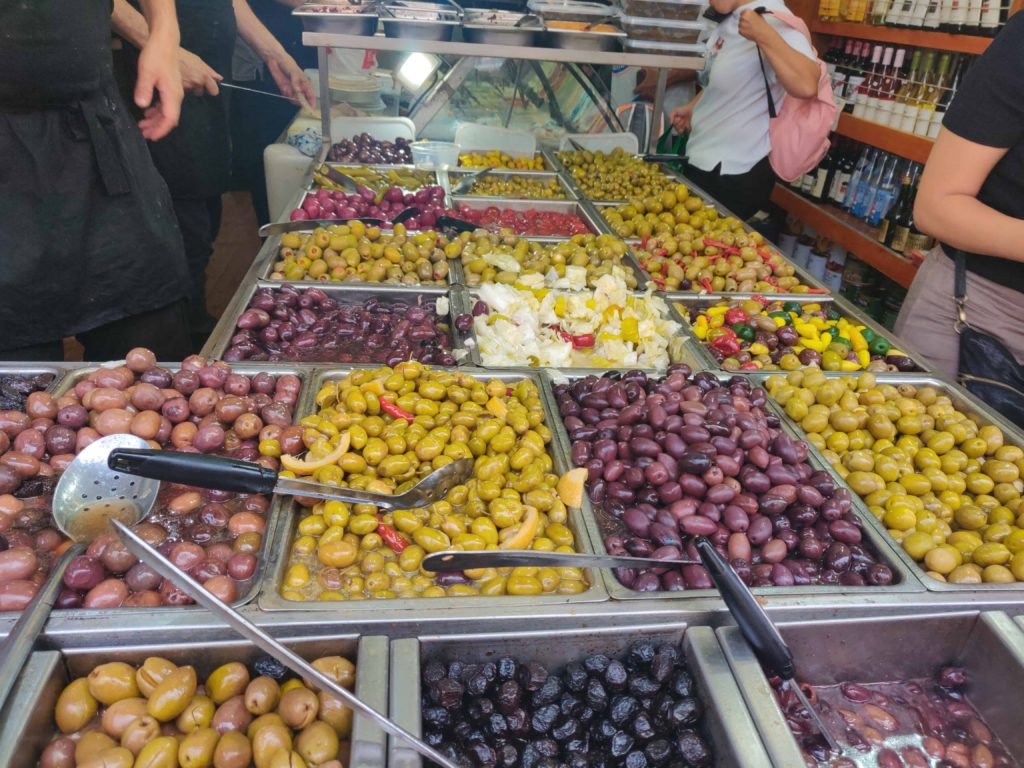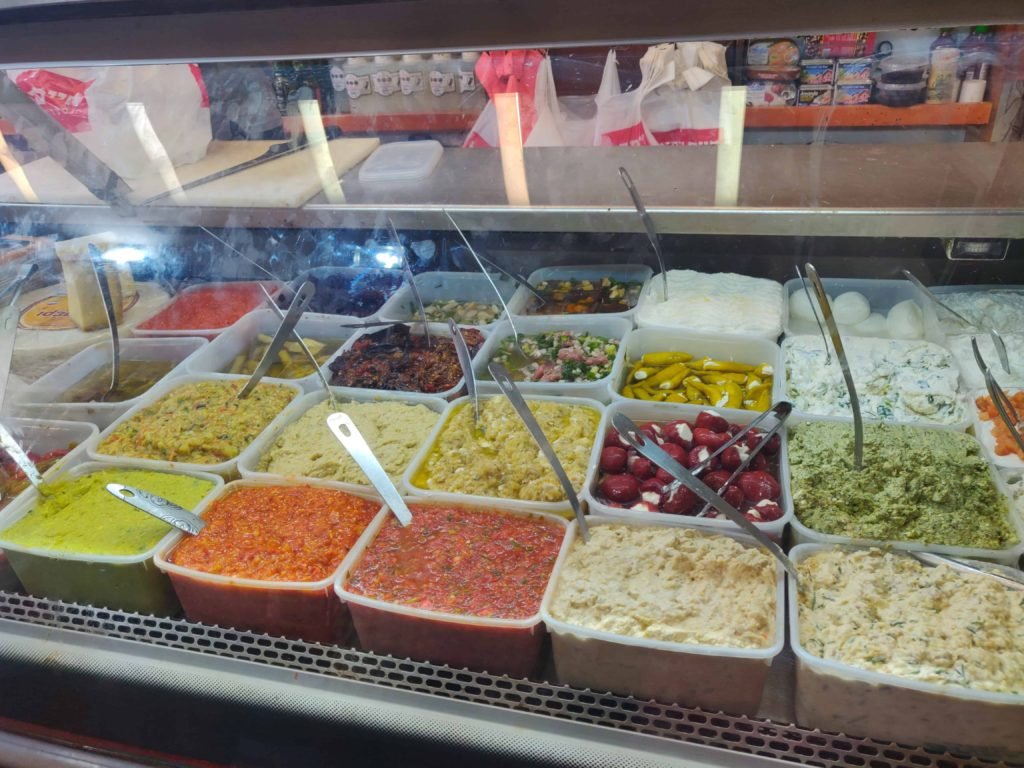 With our stomachs already a quarter full, we finally made it to our destination – Garger HaZahav – a place that at least six different locals had recommended to me. The tiny place was very obviously popular with at least seven different groups of people waiting to get a table. The host kindly noted our names with a marker on the glass door that he generously used as a board. As the wait continued with the clock continuously ticking and munching on the falafel they served to the hungry queue, we started to worry that we may not even get a seat as it was just a couple of hours from shabbat when the place would close for the dates. After waiting outside for forty long minutes, all the while looking and drooling over other people's food, we finally got a table just minutes before they stopped taking more names in.
As soon as we got seated, the first thing we got ourselves was a big pitcher of lemonade as we sat looking at their menu. We picked two of their large combos in an attempt to sample as many dishes as we could from their kitchen. As we waited for our food to arrive, we were served with pita, sweet white onion, cucumber, and olive pickles, and two very unique items. The first was crushed garlic in some kind of a flavourful liquid that I am still struggling to place and the other was skhug – a fiery, herby Yemenite chutney made with coriander and parsley leaves, jalapeno peppers, more garlic, some cumin, cardamom and caraway seeds, salt and pepper, and a generous amount of olive oil. It was so tasty that I couldn't stop eating, even my nose burned and eyes teared up.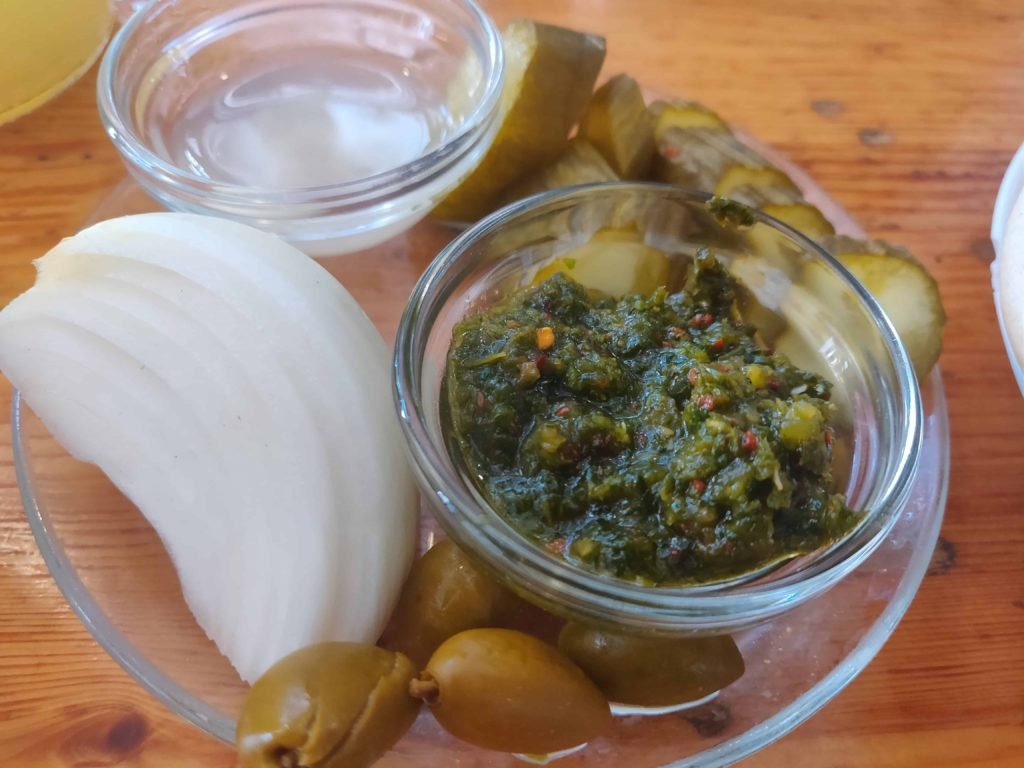 Food finally arrived. Take a look at the magnificent spread before I go on describing each of the amazing things out there.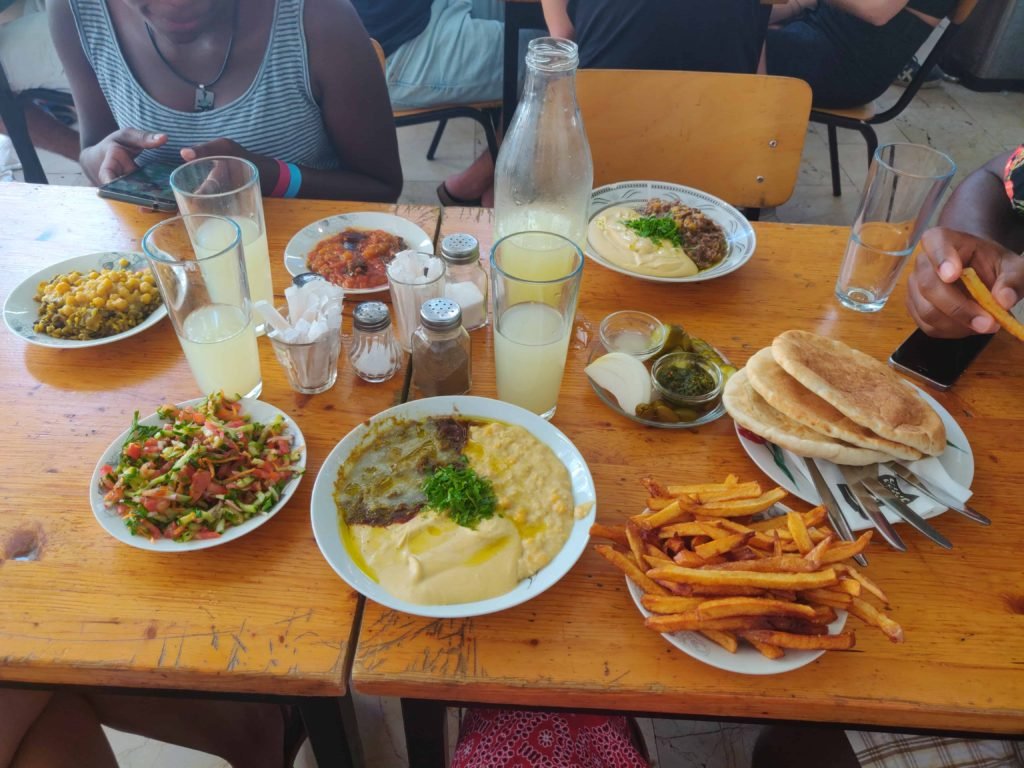 We got two plates, comprising of hummus, ful, and mashawashe. These were our mains. Hummus is a staple dish all that one can find all over the middle east. It is made of finely blended boiled chickpeas with lemon, garlic and sesame paste. Mashawashe was also made up of chickpeas which were, this time, coarsely crushed with lemon and garlic. Ful is a (Egyptian?) stew made of fava beans which are cooked till they lose their identity and become a single blob, topped with herbs and spices.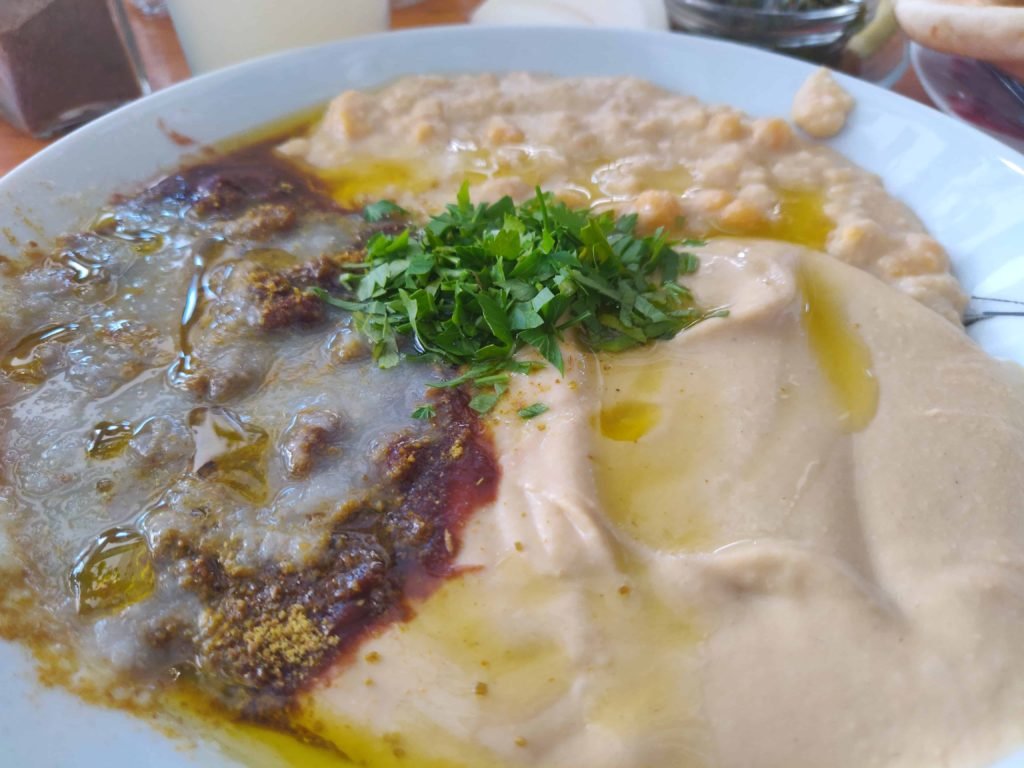 Moving on to our side dishes, we had asked people on the side tables and picked the four most recommended. Majadra was clearly extremely popular as there was at least one person on every table that recommended it. It is a dish made with green and black lentils, along with bulgur groats and finished with a generous helping of fried onions. It came topped with mushy chickpeas.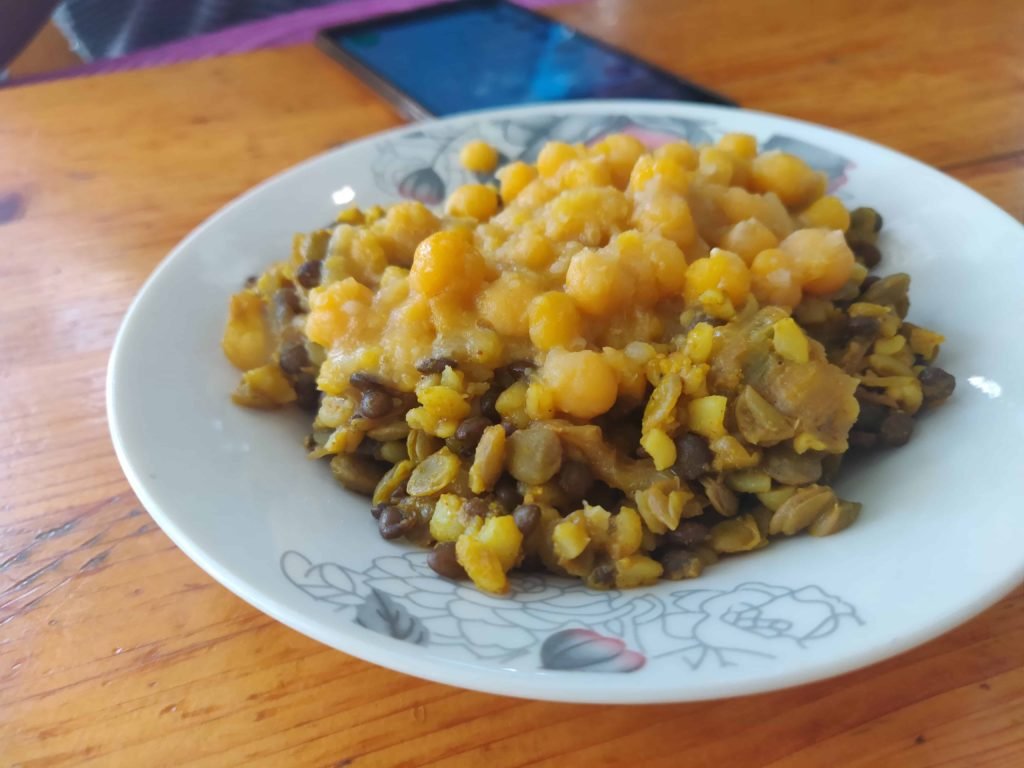 My Indian taste buds found the sphicha closest to home. Cooked eggplant in a tomato-based sauce to be dipped into with a pita, it felt homely with its warm subtle flavors. Eating this with a slice of onion and the skhug elevated the experience to another level.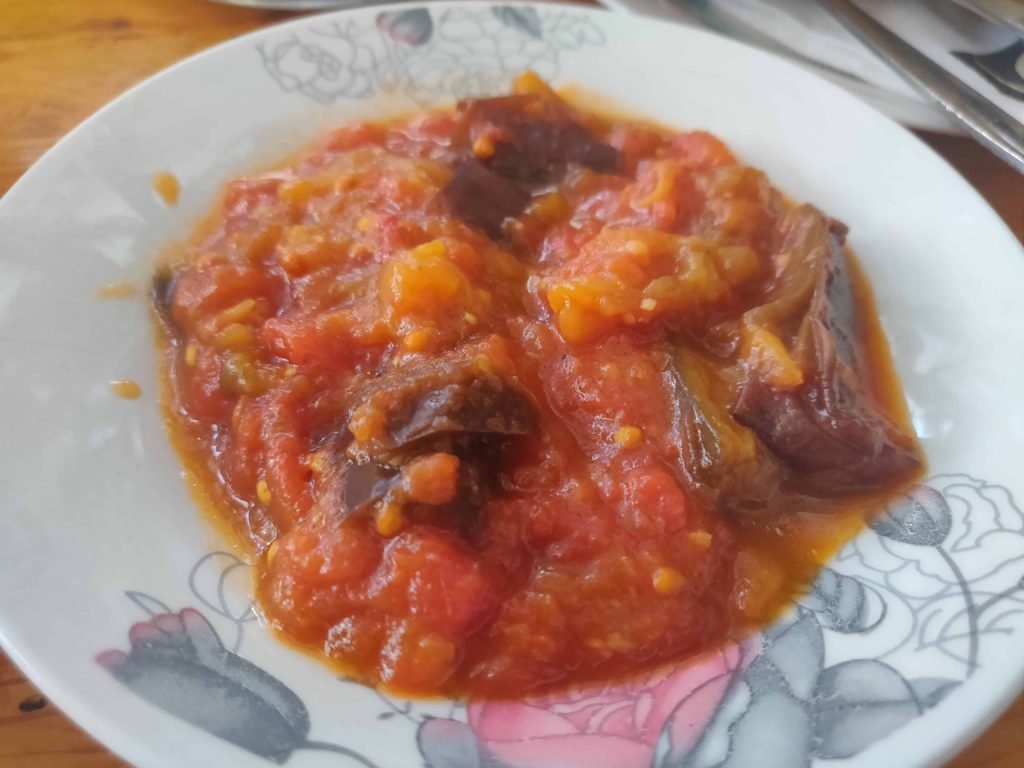 I now describe my most favorite from the spread- the good old salad. This delicious chopped salad comprised of finely sliced cucumbers, tomatoes, radishes and generous amounts of parsley, dressed with lemon juice and olive oil. While the Israeli salad is the best by itself, this version might just be better. In the hot summer of Tel Aviv and all the heavy food that we were gobbling down, this salad brought out the freshness that brought the entire meal together.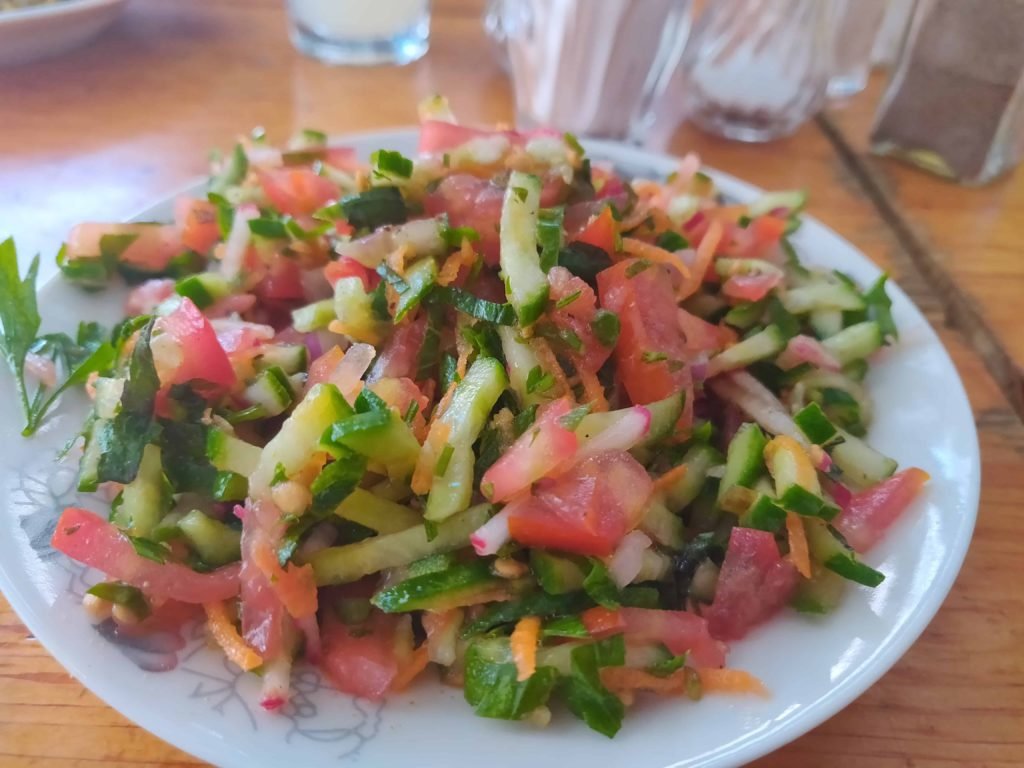 Last, but not least, we ordered the chips; which is nothing but what French fries are called in this part of the world. Dipping these amazingly crispy and long double-fried potatoes in hummus, skhug or ketchup kept us wanting for more even when all the other things were scooped (with the pita) clean off the plate. The love for these fries is so much that I could back just to get these again.
If you're around the area, do come and eat here; you will not regret it. And if you're not around the area, give some of these dishes a try as all of them are simple and easy to make with flavors that will keep you wanting for more.
Last updated on November 30, 2019
You might also like these!