Khau Galli is a very desi term to describe a food street in India. "Khau" means Food and "Galli" means lane or street. Just like any other city, Mumbai has its various Kahu gallis in different parts of the city. Street Food and Mumbai complement each other. From the south of Mumbai to a small area in the suburbs, each has its own food lane where people rush when the craving for street food strikes. One famous Khau Galli that tops the list of street foods in Mumbai is Ghatkopar Khau Galli.
Located in Ghatkopar East, it's a walking distance from Ghatkopar station. Opens as early as 4 pm, this place comes alive later in the evenings. The lane is always buzzing with street food lovers munching on their preferred snack. From a tiny Vada Pav stall to a dosa cart selling over 40 dosas, you will find all your favorite street food items here.
Things to try at Ghatkopar Khau Galli
Chilled Pani Puri at Jai Durga Chaat Centre: Right at the beginning of Khaugalli is Jai Durga Chaat Centre. It is just a small cart selling Pani Puri using Bisleri Water. It is easily recognizable by the large crowd near it. People are swarming the counter with silver paper bowls in their hand, awaiting the delicious Golgappa to be served. The Pani Puri is chilled, spicy, and tongue-tickling delicious. They serve boondi in a crispy puri which is dunked in a steel tank of chilled Pani. Priced at just Rs 30 per plate, it is a must-try in this food lane.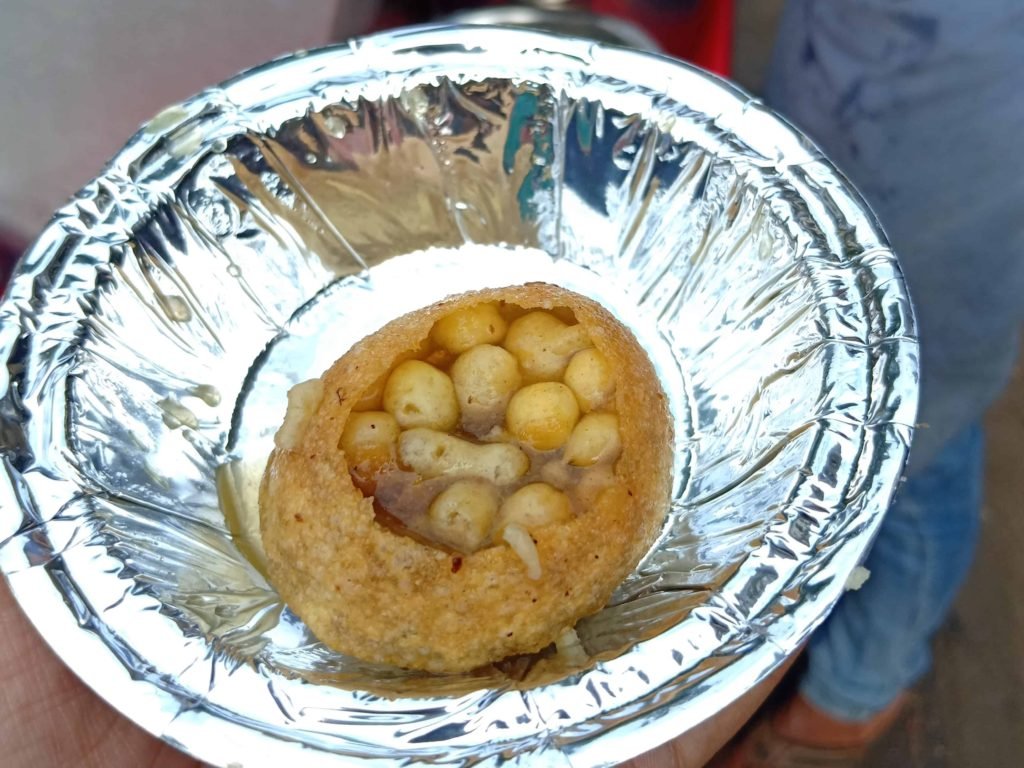 Manchurian Pasta Dosa and Jinni Dosa at Sai Swad Dosa: If you have ever been to Ghatkopar Khaugalli, you are likely to have tried or heard of this massive Dosa counter which makes ten dosas at a time. The counter has 10 Tawas where the guy would spread the dosa batter across all the Tawas while the helper would then slather the butter & the mashed potato contributing to faster service. Due to the incessant rains, they operate out from a small shop where only four Tawas are used. But nonetheless, the service, quality, and more importantly, the taste remains at par. Selling over 40 variants of dosa, the Manchurian Pasta Dosa and Jinni Dosa are crowd favorites.
Manchurian Pasta Dosa: What's better than a combo of smooth Pasta tossed in Manchurian gravy served with a buttery warming dosa. Served with schezwan chutney, coconut chutney, and Sambhar this dish is as good as a meal. Priced at Rs 180 it certainly seems value for money for that quantity.
Jinni Dosa: This is another popular dish that not only tastes good but is Instagram worthy. Dosa is prepared using schezwan chutney, mashed potatoes masala, paneer cubes, cheese, and more. The sliced rolls towering in the plate are garnished with shredded cheese and coriander. Simply lip-smacking good.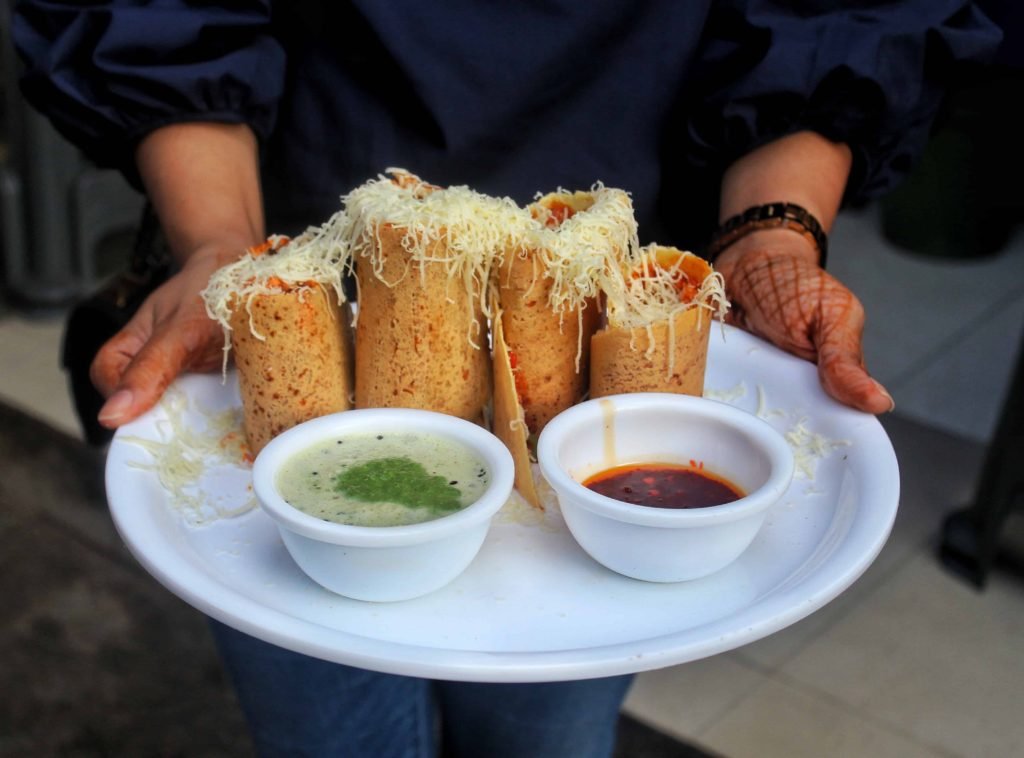 Pasta in Pink Sauce at WTC Pasta counter: A counterpart of the infamous WTC Manoj Pasta corner in Cuffe Parade, this place serves items like Hot corn, Maggi and Pastas.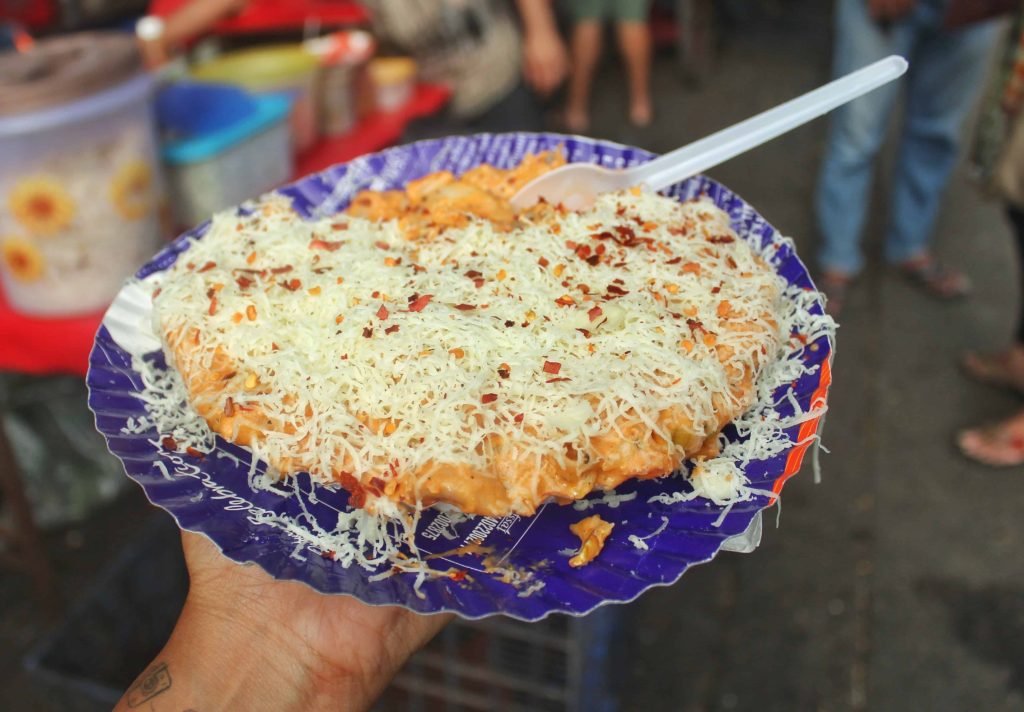 This is a small roadside stall preparing the Pasta right before you. Tossing Pasta in a pan with sauces and loads of cream, this one comes high on calories. The heavily covered cream pasta is covered under a mound of shredded cheese. The Pasta is barely visible and would require you to dunk in your fork to scoop out a bite. It is cheesy, super delicious, and priced at Rs 150.
Pav Bhaji at Achija: The preferred stop for Pav Bhaji is Achija. They are so popular that they have three branches in the same area. A blob of butter melts on a hot plate full of perfectly mashed bhaji. Served with two buttery pavs, some onions, and lemon, it is packed with flavors.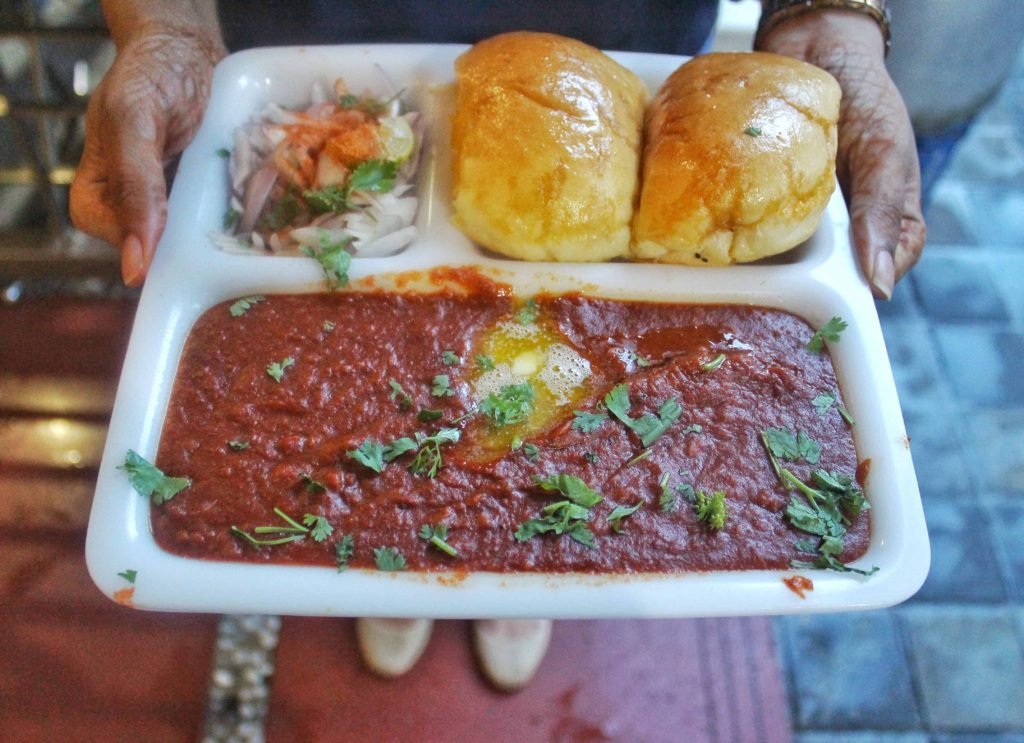 Dabeli Cone: Dabeli is a famous street food item from Kutch. But there's an innovative dabeli here, the Dabeli cone. Mashed Dabeli Masala sauteed on a Tawa with onions and spiced peanuts and stacked in a crispy Cone topped with Sev, just for Rs.20.
Dryfruit Gola at Pooja Malai Gola: No street food spree is complete without indulging in something sweet. Malai Gola at Pooja Malai Gola is quite popular. It is available in different variants like plain gola, malai gola, double malai gola, and dry fruit gola. The Dry fruit Malai Gola is prepared using crushed ice, topped with flavored syrups, dehydrated Mawa strands, nuts and heaps of Malai. Keep some space for this.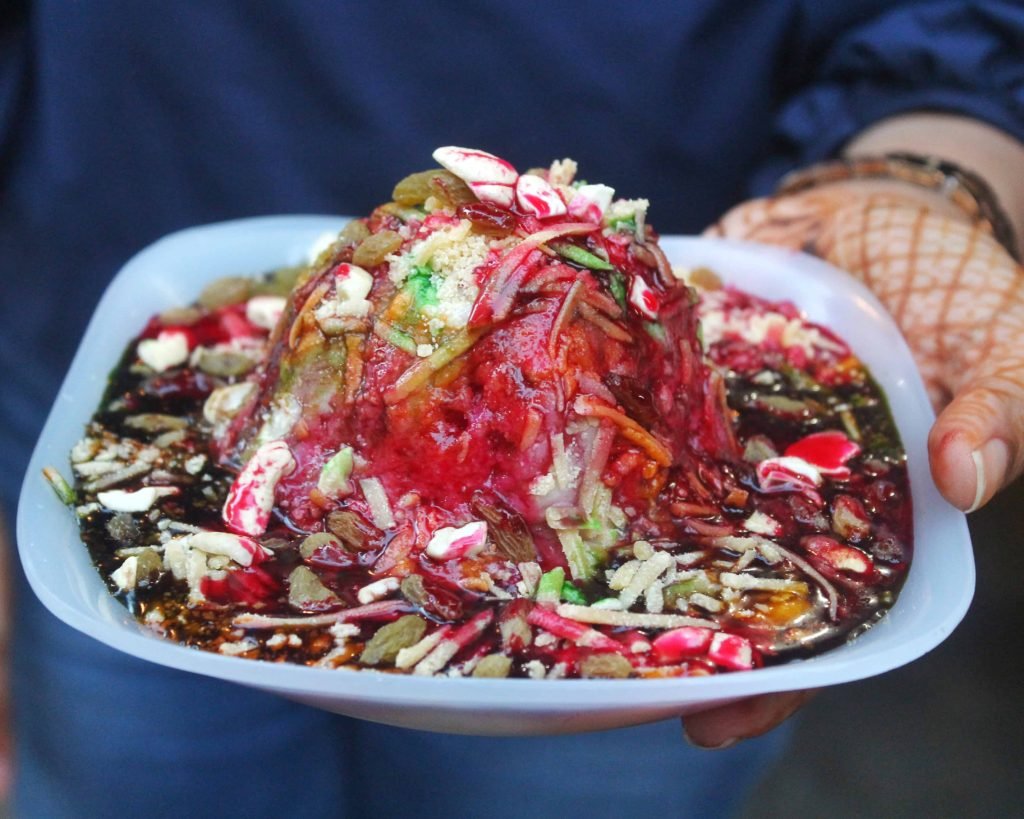 Paan Ice Cream Sandwich at Dairy Don: This old school ice cream sandwich is simply two thin, crispy wafers sandwiching assorted ice cream flavors you can choose from. Mango, strawberry, chocolate & malai are some of the flavors, among others. Paan Flavor is a favorite from the lot; refreshing and a great way to enjoy a tasty paan.
Noodle Frankie at Om Sai Sagar Frankie: Unlike the usual Frankie counter where the Frankie is prepared behind the board, this one is an open stall with a large Tawa where two Frankies can be accommodated at a time. Noodle Cheese Frankie is a crowd favorite here.
The Frankie is loaded with a generous filling of noodles, onions, cabbage, sauces, and loads of cheese. Priced at Rs 100 it is value for money.
Fresh Juices at Maa Shitala Juice Centre: Someone specifically looking out for something non-greasy and fried, they can always enjoy a glass of some freshly squeezed juice. From Orange, Watermelon, Mosambi to seasonal Peaches, Plums, and Custard Apple, they serve a variety of juices. They even serve a range of chocolate milkshakes to choose from. It is priced from Rs 30 onwards up to Rs 150 per glass depending on your pick.
Khichya Papad, Dahi Dhokla, and other Gujarati Farsan: There are a host of tiny stalls selling quick snacks like Dhokla, Khichya Papad, Khichu and more. Just be a wanderer and have a great food adventure.
Khaugalli, Ghatkopar E, is open 4 pm onwards till midnight. Most of the counters accept only Cash. Parcel facility is available. They are even available on Swiggy and Zomato if you prefer to order in.
Last updated on January 25, 2021
You might also like these!