Street food is an integral part of the food culture of Mumbai. Every Mumbaikar has tasted chaat at least once in their lifetime. Mumbai is not the only city where you can have it. Delhi is known for its Momos, Kolkata for Puchkas and Rajasthan for Kachoris. Similarly, Mumbai is renowned for its popular street food: Bhel Puri and Sev Puri. But what is so special about Mumbai chaat? To begin with, it is a light snack option with an explosion of flavors at minimal prices. It is an easy takeaway option and can be enjoyed on the go. Mumbai's streets are dotted with street food hawkers selling different kinds of delightful street eats, but one Chaat seller has been a favorite for decades.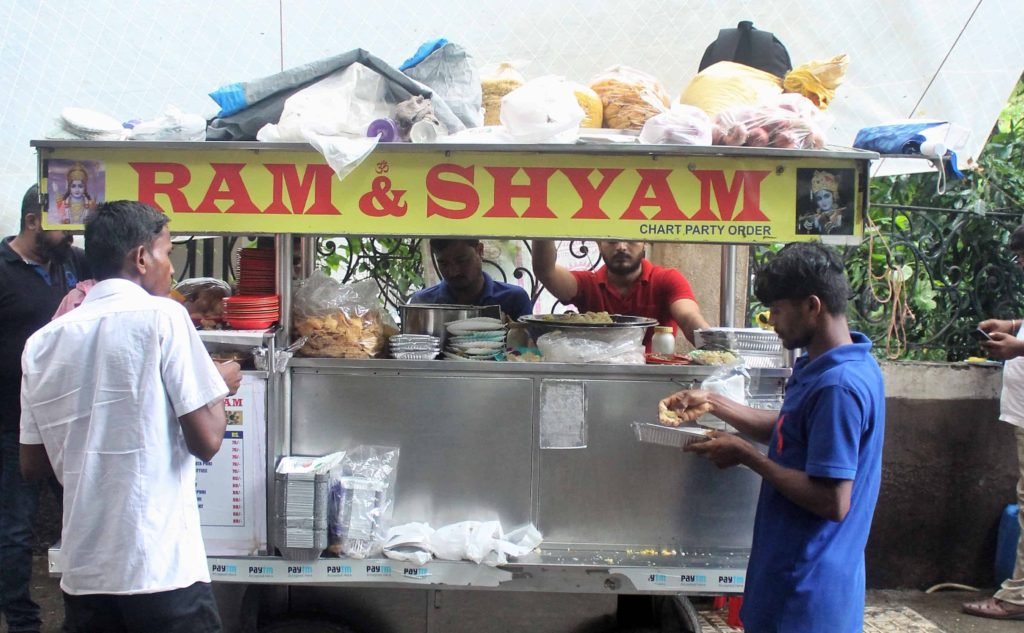 Ram & Shyam Chaat in the suburban area of Santa Cruz is immensely popular among locals and Bollywood stars. While there are plenty of places in the suburbs where you can enjoy a decent chaat, there is only a handful that ticks all the right boxes: hygiene, price & taste. While some are too steep with their prices, some compromise on taste while others have never known hygiene.
Ram and Shyam Chaat Story
It was originally started by Ram & Shyam's grandfather who would sell only Bhel puri and Sev Puri from a small basket perched atop his head, treading the by lanes of Santacruz. Years later, they received a license to set up a permanent stall and have been selling their famous Bhel Puri and Sev Puri along with other items in the same spot for more than five decades. The business is currently being run by the 4th generation of the family.
In 1972, Ram & Shyam's sons took over the business from their fathers and were also referred to as Ram and Shyam. A candid conversation with Shyam revealed that the brothers take care of the business in alternate months. They have many loyal patrons dropping by regularly, some of them are regulars here for nearly 25 years.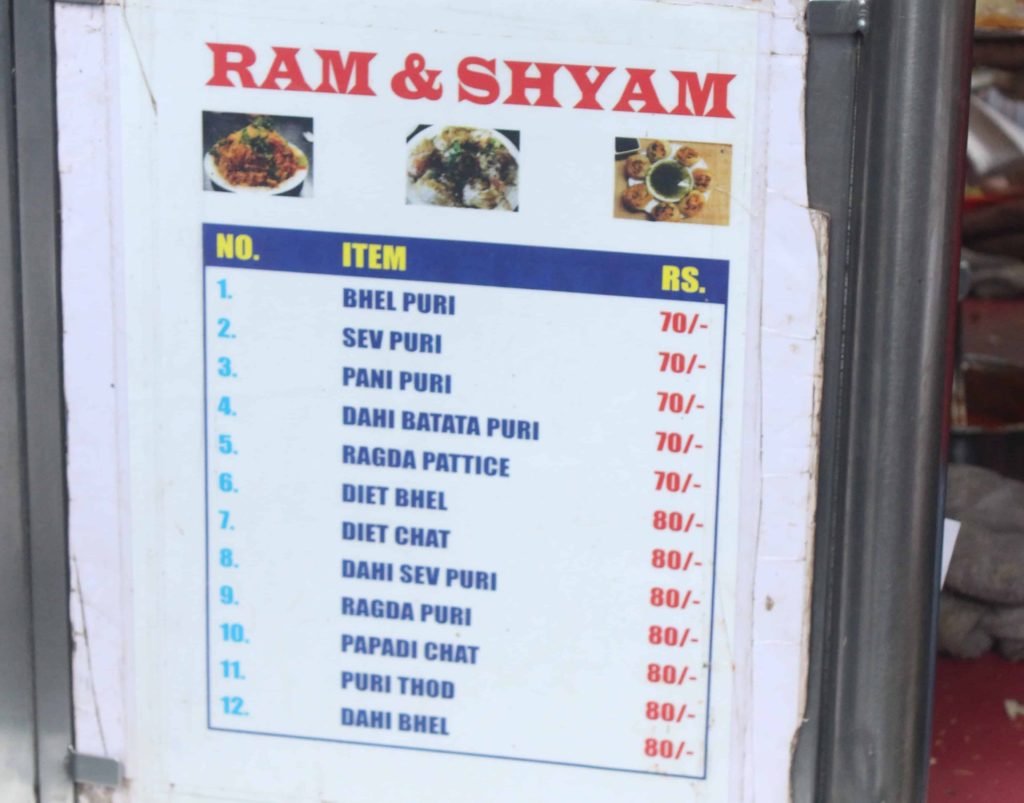 In 1972, Bhelpuri was priced at 30 paise and Sev puri at 40 which now is being priced at Rs 70 & 80 respectively. Being in the exact same spot for so long, the place is always crowded with people enjoying their favorite dishes.
Ram & Shyam Chaatwala – Best Chaat Items!
It would be difficult to pick one favorite item at Ram & Shyam and while we tried almost all the dishes, here are some of the best:
Bhel Puri: Bhel Puri is a mixture of rice puffs, chopped onions, tomatoes & boiled potatoes, sweet and spicy chutneys topped with coriander, sev, kairi (raw mango) and Papdi. It is a perfect balance of flavors with each of them complementing the other. Priced at Rs 70 it might sound expensive, but for the generous quantity and that unmatchable taste, it's just about right.
Sev Puri: A plate full of Papdi topped with chopped potatoes & onions, chutney, coriander, kairi and lots of sev. This delicious plate of chaat magic is one of the crowd favorites and a definite must-try. It is priced at Rs 70.
Ragada Pattice: This one is a great comfort dish to relish on a wet rainy day. This delicious street food comprises of steaming hot Ragada (gravy of white peas cooked in spices) poured over mashed Aaloo Pattice (potato patties), dunked in sweet and spicy chutney, a pinch of different masalas & garnished with sev, coriander, and crushed papdi. Delicious all the way.
Dahi Papdi: Crisp papdi hidden under a mixture of moong, ragada and a burst of flavorful chutney. Topped with chilled and sweet Dahi (yogurt). The balance of sweetness and spiciness entangled with a splash of lemon is mouth-watering and filling.
Pani Puri: Crispy Puri is filled with hot ragada, moong sprouts, and chilled spicy paani. Unlike the fancy version of Pani Puri, where boondi is filled in the puri, moong sprouts are preferred here. We bet you can't just stop at one.
If you reach the stall after 5 pm, there are chances you may have to wait your turn to enjoy a great serving of Pani Puri.
Diet Bhel & Chaat: Fret not if you are diet conscious. These guys got you covered with their Diet specific servings. Diet Chaat is a mixture of sprouts, boiled potato, curds, and chutney; an alternate healthier version of your favorite chaat.
Do not forget to savor a light sukha puri or two at the end of a scrumptious chaat ride.
Praises all the way from Bollywood stars
One little birdie gossips that even after so many years Sev Puri gets delivered at Tina Ambani's house. And even the Bachchan's are one of his celebrated customers.
They are located at the corner of RD Burman Chowk, who would have ever thought that this chaat seller with such humble beginnings would one day have its own GeoTag on Google and even get an official listing on Zomato.
Ram & Shyam guarantees good hygiene and fresh preparations.
After the suggestion from Anil Ambani on his visit many years ago, he recommended the use of Mineral water. And ever since only Bisleri packaged water has been used to prepare the items.
The servers always wear gloves and ensure each item is served with love and care. As there is no specific seating area, people prefer to enjoy chaat in the cushioned comfort of their cars.
Parcels are neatly packed in foil containers making it convenient to enjoy street food in the comfort of your house. They deliver to nearby localities and even cater to parties and marriages where their chaat is praised all the way.
Frequented by many by celebrities, the commendable praises and loyal patronage of Mumbaikars for its quality, pricing and hygiene make it one of the best Chaat places in Mumbai. If you haven't visited this Chaat stall yet, you should definitely find your way here soon.
Last updated on December 1, 2019
You might also like these!