We all remember Irani Cafes as a place filled with nostalgia. Those dark and rustic cafes with old bentwood furniture, paint chipping off the walls, withering interiors and grumpy waiters serving faster than the lightning, not to forget the Bawa behind the counter collecting cash on the bill. With the dying legacy of Irani cafes in Mumbai, what if we told you could enjoy the warmth of old with a new and modern look with better quality, service and food options. Yes, SodaBottleOpenerWala is all about bringing the old in the newest form, with top-notch service, a better and longer menu and the glitter and glamour of fabulousness to it.
SodaBottleOpenerWala (Review)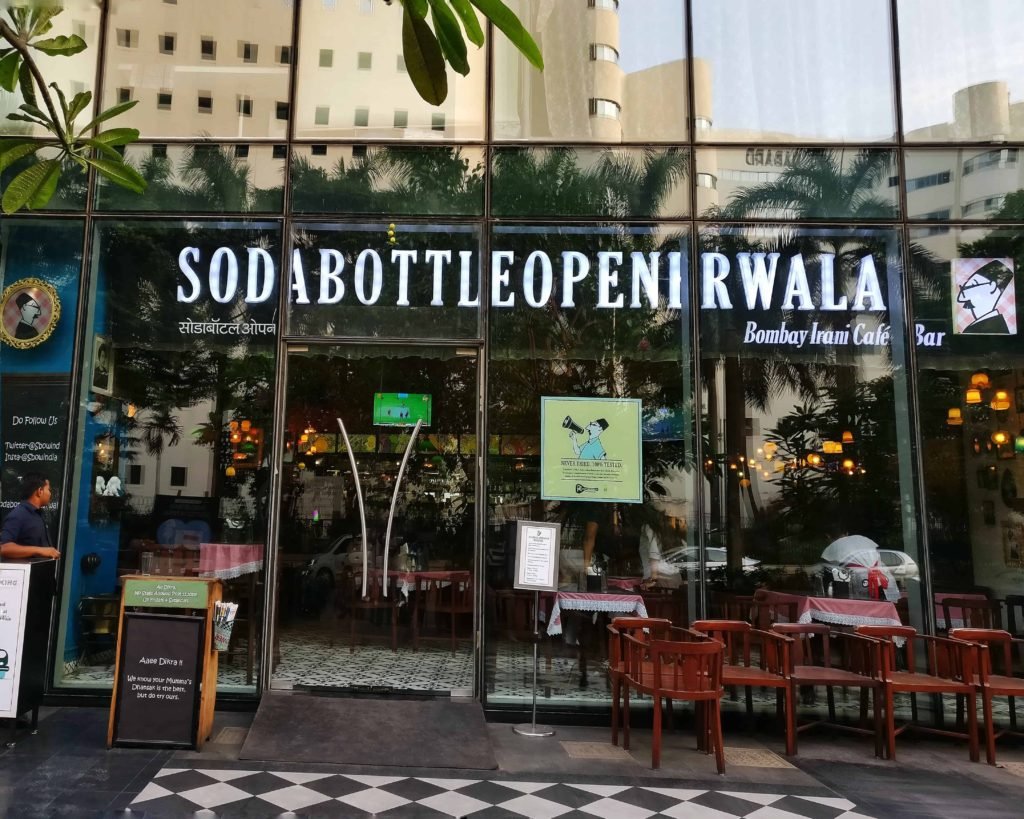 SodaBottleOpenerWala is an uber-chic café paying tribute to the iconic Irani Cafes in Mumbai. Irani cafés have played a vital role in Mumbai's food culture. But with the modernization of the city and new eateries popping up, many of these cafes have not been able to stay afloat. SodaBottleOpenerWala seems to have shouldered the burden of continuing the heritage of the Irani cafes. The brainchild of AD Singh and his wife Sabina, promoters of Olive Bar & Kitchen, the mission of SBOW is to keep the Irani café culture alive with a dose of newness to keep up with today's time.
Located at four different locations in Mumbai, SBOW (SodaBottleOpenerWala) has spread its wings in Bangalore, Delhi & Hyderabad as well. In Mumbai, the most sought-after outlet is on the ground floor of The Capital Building, G Block, Bandra Kurla Complex. BKC is a popular hub for new restaurants that cater to a vast audience as many corporates end up at such fun places after a long day at work.
Ambiance: SodabottleopenerWala also known as SBOW, is a fresh breath of yesteryears aura, which will make you happy with its fun. Their quirky setting is reminiscing the actual Irani Café and its closely authentic Parsi Food.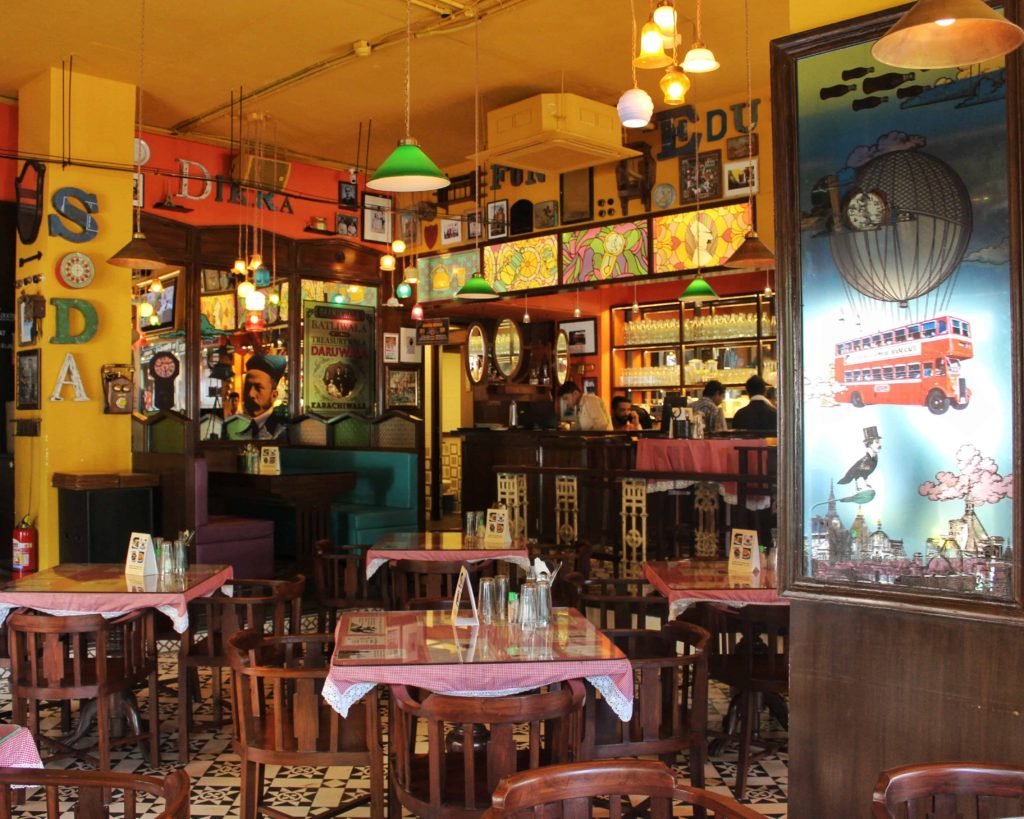 The bright and colorful interiors with the cheery mock-Minton tiles on the floor, bentwood chairs and square tables with quintessentially Parsi red check tablecloths, stained glass panes look like a scene out of a 70's Bollywood set. There are even quotes chalked out on a blackboard that read "no time pass allowed," "No flirting," "no talking to the cashier" etc. which you would find at old Irani Cafes.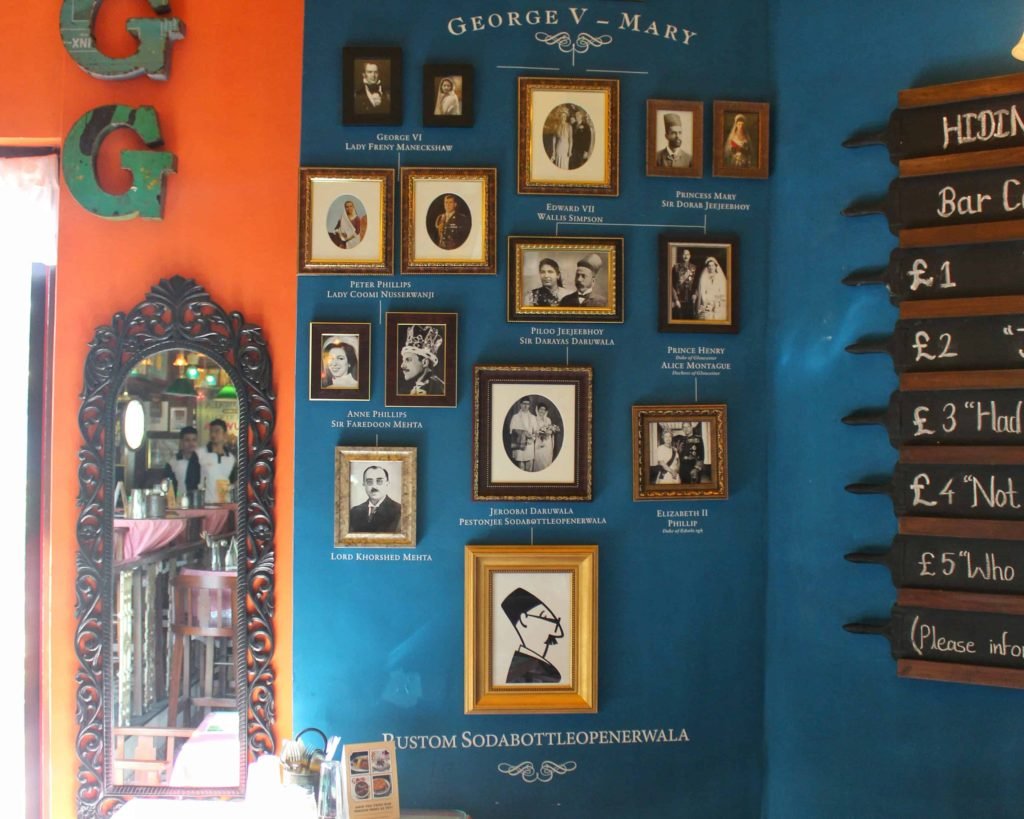 There's also a blue wall replicating the look of the exteriors of B Merwan, a famous Irani café in Grant road. The framed pictures of the family tree of the fictitious Rustom Sodabottleopenerwala on the wall are just a few of the many quirky features of SBOW.
SBOW is a casual all-day café serving Parsi and Bombay inspired Indian Food. It also features some funky named cocktails like Old Bawa, their take on the classic old-fashioned cocktail or Finding Frenny – a smooth concoction of gin and tonic spritzer with aromatic seasonal fruit and cucumber. Not just that, but even the Chai has its own in distinct variants: Irani Special Chai, Khade Chammach Ki Chai (with a lot of sugar), Masala Chai, Parsi Choy, and Pheteli Coffee.
Parsi Food and beyond: Being an Irani Café, although it serves as authentic Irani Food as it can, it also serves Bambaiyya faves such as vada-pav, kanda bhajji, Raasta sandwich and even chaat in its own unique way.
You will find some hilarious names on the menu like Aloo Aunty's Vegetable Cutlet, Breach Candy Awesome Okra, Mamaji's Grilled Sandwich and Eggs Kejriwal.
SodaBottleOpenerWala – Dishes to Try!
Dhansak: Dish made from three to four kinds of lentil cooked along with Mutton and served with a Parsi style of Brown rice and Kachumbar. Dhansak is served in metal tiffins (Dabba) at SBOW, unlike the regular plate and bowl style.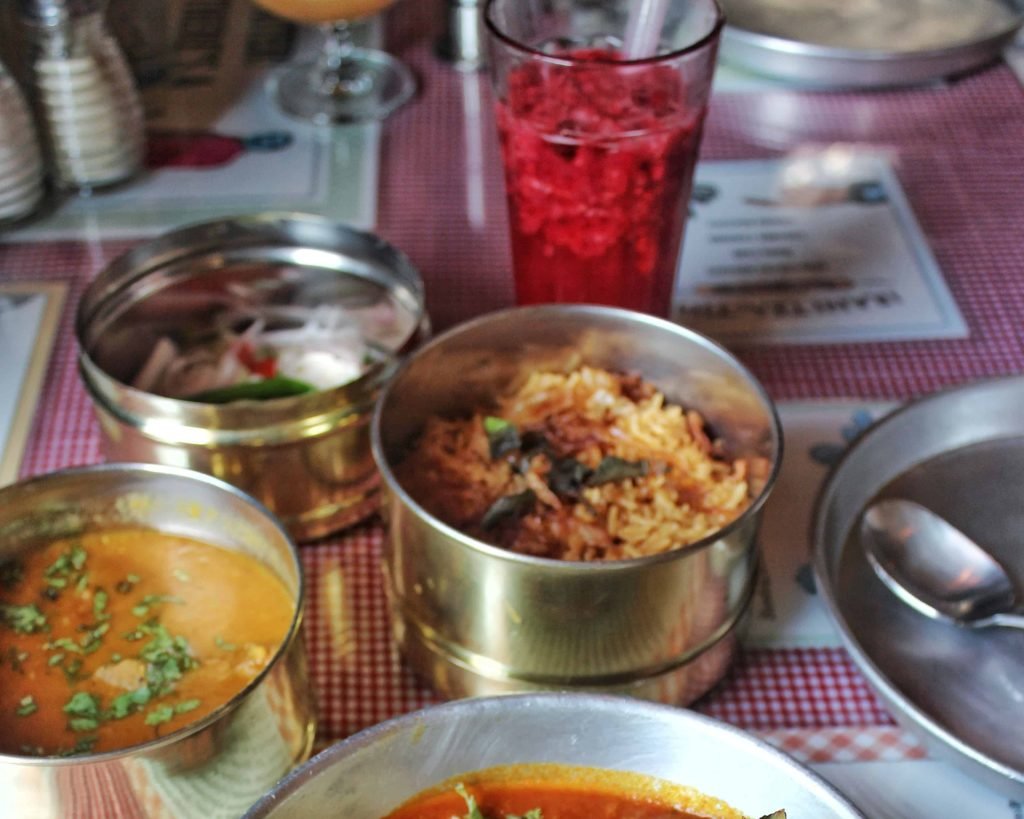 Akuri: A Parsi staple dish, spicy scrambled eggs on hot buttered toast are often eaten for breakfast.
Eggs Kejriwal: Give eggs to Parsis, and they put Edu (egg in Parsi) on anything and make it glamourous. A cheesy mushroom toast with the perfect sunny side up been the talk of the town and comes highly recommended. A must-try.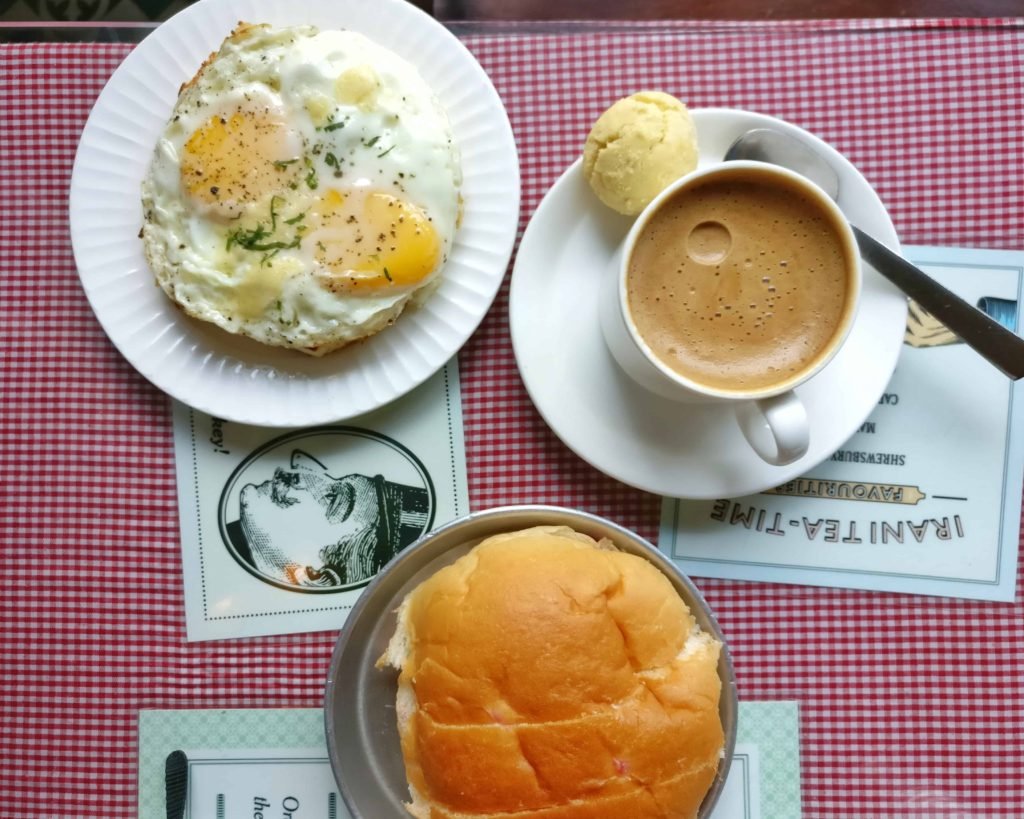 Berry Pulao: Comes in variants of Chicken and Mutton, the succulent mutton pieces on long-grained rice with just the right amount of spice, tanginess from berries and brown fried shallots. Each ingredient adds its own unique flavor to the dish: cashew nuts add the crunchiness, berries with their tanginess, the sweetness of the shallots and the mildly spicy meat curry.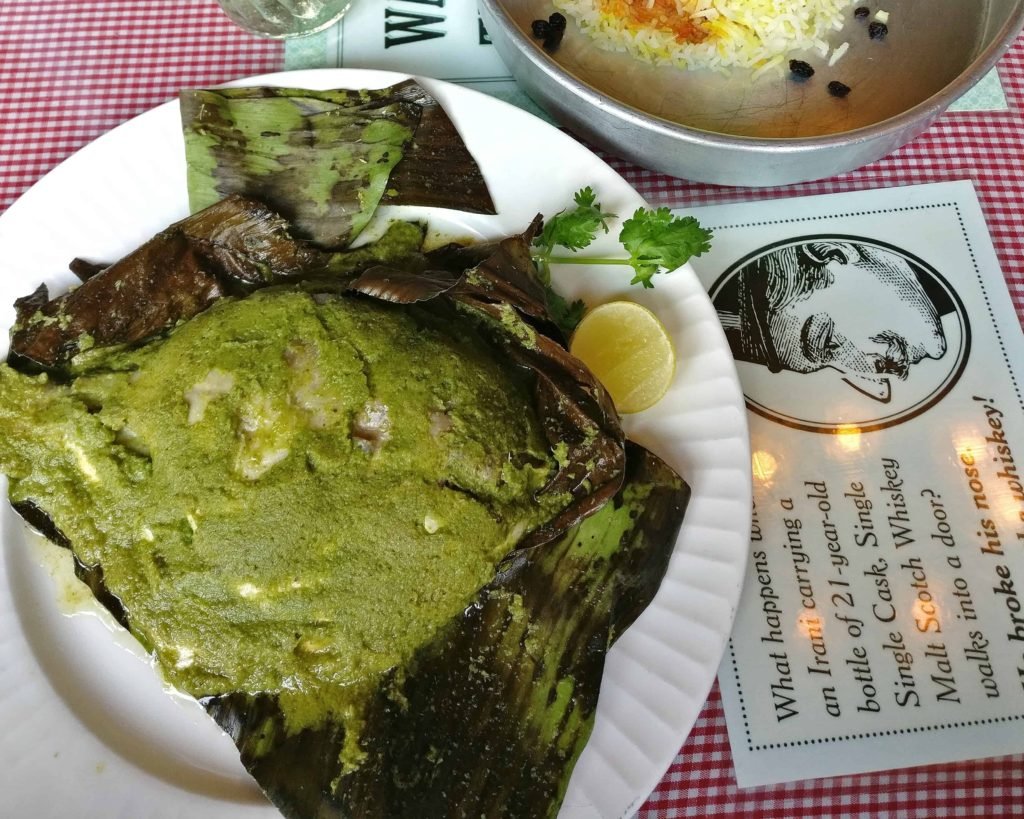 Paatra ni macchi: A pomfret fish coated in a flavourful coconut and coriander chutney and steamed in a banana leaf is enough to make anyone drool.
Chicken farcha: Yet another Parsi staple, Chicken Farcha is fried chicken (boneless) served with chutney. Pair it with a Masala chai and you are sorted for your evening snack.
Apart from their traditional Parsi "Laganu Custard" they also have a variety of desserts which include the Matunga Coffee Cake, which is a flourless coffee cake made from coffee bought from Matunga, Mumbai.
They even bake their own slices of bread, bakery items, and desserts. From Bun Maska, Khari Biscuit to Shrewsbury, Nankhatai, Wine and Ginger Biscuit, it is all baked fresh. Along with the fresh-baked items behind the glass counters, you will also find Mawa cakes, cookies, candies, and more. The glass jars full of old school candies (Poppins and Kismi toffee) will bring nostalgia and a wide smile on your face.
SodaBottleOpenerWala serves breakfast every day from 8:30 am to 12 noon. The breakfast menu features popular Mumbaiyya items like Pancham Pooriwale Ka Poori Bhaji, Paneer Akuri, Keema Ghotala and Pav, French Toast, Bun Maska, Irani Chai, Coffee, and an exceptional Cold Brew.
The music here is peppy, enough to make you tap your feet to its energetic rhythm. This fun and vibrant place gets even more entertaining on weekend nights when they host a Bollywood night with retro English & Hindi tracks. So, after a long, tiring week at work, you know where you need to be to let your hair down. Every Friday and Saturday Night is Retro Bollywood Night, 10 pm onwards.
Last updated on January 23, 2021
You might also like these!